Photo of the Week: Squirrel…it's what's for dinner…
It's almost wrong of me to continue a series of posts called "photo of the week" when I haven't actually posted one since early February…
But this occurrence, a homicide of sorts, right in my back yard, was too much to ignore…
When I arrived home from work last night — the first warm evening of the year — I spent some time out in the garage preparing the BMW for it's first car wash of the season.
It's been in storage all winter.
As I backed the car out of the garage, I couldn't help but notice the number of crows in the trees above causing a commotion.
Looking up, there were certainly a lot of angry birds milling around and thought it was a bit unusual, strange enough that I even walked around the entire garage trying to figure out what the big deal was…
And then I saw it… standing on top of a telephone pole.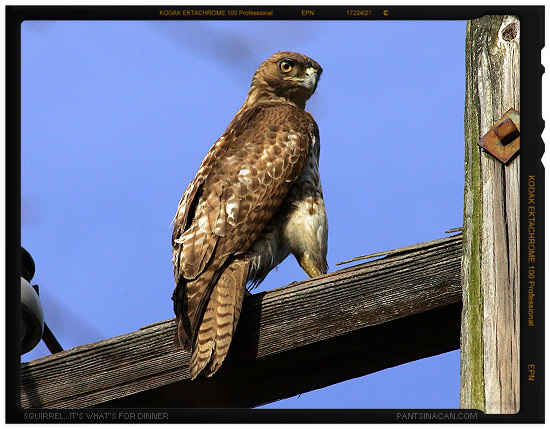 That's no robin!
I went inside to get the camera (to take all of these pictures).
By the time I returned, a dog-walking neighbor had stopped to admire the bird. He called it a hawk.
Another neighbor, joining the crowd (yeah, this is probably the most exciting thing to happen on our street in well over a year), thought it was a falcon.
I just thought it was a big bird — and not the yellow variety.
Seriously, does anyone out there know what kind of bird this actually is?
So we're all just standing there as the crows dive bomb this magnificent bird on the telephone pole until we finally lose interest.
My wife and I get in the car, put the top down, and drive away.
When we return, maybe 45 minutes later, the crowd of neighbors is gone. The cawing crows are all gone too. Things seem pretty quiet — back to normal.
And then I see that our bird friend just so happens to be peacefully eating dinner — a poor squirrel — right in the center of my backyard…almost exactly where that giant mushroom grew last year.
I won't describe everything in detail, a picture is worth a thousand words, so here are some of the more interesting ones…
I think I've been spotted… Thankfully, I'm a lot larger than a squirrel. But really, if this bird wanted a piece of me, I'm pretty sure he could get one.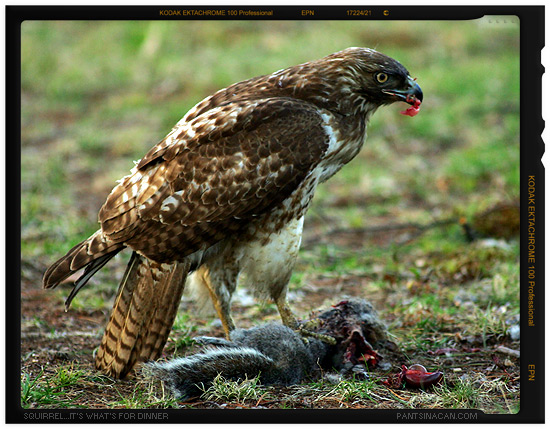 Mmm… that meat looks about as well cooked as a burger from Chili's.
For this next one, I'm just taking full advantage of having loads of professional equipment…
Best of all, when he was finished, the bird cleaned his plate.
I won't even have to pick up a carcass before I mow the lawn (possibly this weekend)!