Gilbert Stuart: Straight Outta Compton…
The most brilliant portrait painter in America after the Revolution was Gilbert Stuart (1755-1828).
Every American is familiar with his "Athenaeum" portrait of George Washington, which is reproduced on currency.
Gilbert Stuart was born in Rhode Island Colony December 3, 1755.
His father, a Scottish immigrant, was a snuff grinder until his business failed in 1761. Then he moved to Newport, living in a house his son later described as "a hovel on Bannister's Wharf." [A snuff grinder, huh? Maybe they could have elaborated on that a bit? I checked out volume 21 and there isn't a "Snuff Grinder" entry. I mean, I can figure it out, but did they really need to include that?]
When he was about 13, Gilbert Stuart became a pupil of a mediocre Scottish portrait painter, Cosmo Alexander. [Poor Cosmo. I'd hate to be called mediocre in an encyclopedia.]
At 19, he sailed alone for London. After two years there he wrote to the artist Benjamin West, begging for help because he could not support himself. West took him on as his pupil and assistant.
Five years later Stuart married Charlotte Coates, an English girl. Twelve children were born to them.
Stuart's Later Life
In London, and later in Dublin, Stuart enjoyed a large and fashionable patronage, owing partly to his gaiety and wit. [Okay, so why'd he need Benjamin West's help?]
He charged high prices but lived luxuriously and went deep into debt. [I know the feeling…]
In 1793 he was back in the United States [land of the bailout], hoping to make a fortune by painting portraits of George Washington.
Between 1794 and 1796 Washington sat for three portraits: the bust-length "Vaughn" type, the full length "Lansdowne," and the familiar bust-length "Athenaeum." He also painted other famous Americans. [Okay, wait a minute… There must be something missing here… I mean, let's say I want to make a fortune making Barack Obama tie-dye t-shirts. Is Barry going let me come over, snap a few photos, and then profit off of his image? Of course not. Things must've been so much simpler in the 1700's…]
Stuart spent his later years in Boston. He was in debt when he died, July 9, 1828. [This seems so unfair. In this day in age, his estate would be recieving a cut everytime a $1 bill is printed.]
– – – – – – – – – – –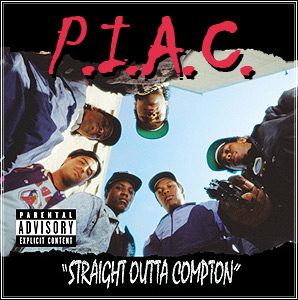 Straight Outta Compton:
This is an idea that I've been toying with sharing on PIAC for a few months.
Growing up, while the living room sported the 1970 edition of the Encyclopaedia Britannica, my bedroom contained the complimentary set of Compton's Encyclopedia — essentially a dumbed-down version of the Encyclopaedia Britannica semi-geared towards children.
I used to read through each volume randomly and often cited them for book reports and research projects in grade school (long before the internet and the ever reliable Wikipedia.)
Recently, I've been flipping through their pages again only to laugh at the choice of words, the tone of the message, the blatant racism, and the "women should always be pregnant and in the kitchen" slant of many of the entries — most of which have nothing to do with women, pregnancy, or the kitchen.
Things were perceived *much* differently in 1970.
It's some pretty comical stuff so when an entry peaks my interest, and it's brief (or related to money), I'll share it here (with my commentary in blue.)