Net Worth Update: July 2009 (+$5,587)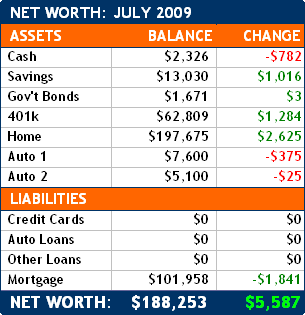 This marks the fourth consecutive month where I've increased my net worth!
I can't really take too much credit for it though as almost all of the gains have come in my 401k and the value of my home… Must be that lagging economy or something…
There isn't really much else to blab about so I'll go right into the breakdown:
Cash:
Somewhat depleted. I'm throwing a ton at the mortgage of late and this is the category that's taking the beating.
Savings:
I'm on auto pilot here trying to increase the balance by $1000 each month. I was right on target for June.
Gov't Bonds:
Still waiting for that investment I made back in April to make some sort of difference but, so far, nothing.
401k:
I almost can't believe that I'm pondering lowering or even eliminating my contributions… More often than not, this seems like a cash cow.
Home:
Still no where near its high (February 2008) but right back up to where it was before the bottom fell out back in October and November of 2008.
Auto 1 & Auto 2:
Eh, I thought the drop on my primary vehicle was a little extreme but whatever… They're paid for so I'll take whatever value they still have.
Credit Cards:
Holding steady here.
Auto Loan:
Nothing to report.
Other Loans:
Thankfully, I don't have any "other" loans.
Mortgage:
I did an awesome job this month. It might not be the wisest move to pay down a mortgage like this but it's a safe bet and it will feel really good to get it under $100k.