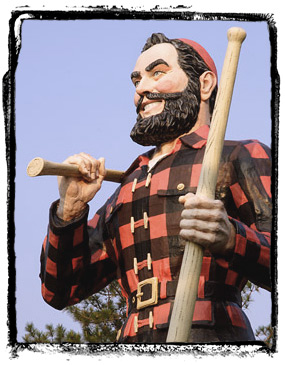 So, like I said yesterday, we're planning on having a few trees removed from the yard.
Earlier this week, we called a few companies out for estimates — Asplundh, an international tree service that you'd normally see doing municipal work around power lines, and two local companies.
Asplundh hasn't come by yet — they said they'd be coming by next week to check the project out — but the two locals have stopped in and provided quotes.
For the two locals, I should mention that neither of them is the type of thing where it's some guy with a chainsaw and his brother that's missing an arm from the "accident" last week — I've seen both companies all over the place with multiple bucket trucks and crane type vehicles in tight places.
They're both appear to be quite reputable.
As far as Asplundh goes, we were planning on green lighting the project even before next week so they'll probably be coming out too late.
That's okay, though. I was leaning against them anyway because I'd prefer to use a smaller local company because that's just the way I am.
And no, that doesn't mean that I'm one of those folks who refuses to shop at Walmart, though I do refuse to shop at Walmart, my reasoning is because Target is *so* much better.
Back to the trees…
So, in a back-to-back fashion, both companies sent a little french guy covered in sawdust to scope out our situation. Call me politically incorrect but I always thought drywall was their specialty… Apparently, they're tree experts too.
Both seemed pleasant enough and I got a pretty good vibe from both.
The first quote we received was $2750. And the second was $2950.
Pretty close together.
It was funny, once we got down to the pricetag, I wasn't standing there in stunned silence (like I had with the roof and the siding).
With the first one, I actually had to bite the insides of my cheeks to hold back a smile… Seriously.
While my wife and I didn't actually come up with a number in our heads ahead of time like we wanted to (in a feeble attempt to prepare ourselves for pretty much any number), this quote was well within our limits. Yeah, the limits we never actually set.
Thinking about it though, nearly $3k is still a pretty hefty sum so why am I so content with it?
Is it simply because I have the funds available to cover it?
Maybe.
When we had our roof done back in December of 2006, we had saved up $2k and thought we were doing really well. The quote, and cost of the project, was $14k. Yeah, we were stunned. But we had to green light the project to begin solving our ongoing insurance problem.
Even worse, by the summer of 2007, we'd saved up around $6k to have the house sided and, again, we thought we were in really great shape. That quote came in at $26k?! Yikes?!
Again, though, we went ahead and had the work done financing most of it on a credit card. (Thankfully, we did finally resolve our insurance problem!)
So, basically, on the last two sizable home improvement projects, we've been caught with our pants down when it came to the actual cost.
I think we've almost come to expect it to be that way everytime.
Not so.
We had a decision to make…
Which company should we hire for the job?
The guys that they sent out to give the quote were all but identical — yeah, I admit it, I judge people. Their quotes were so close together that I can't justifiably base my decision strictly on cost either…
Hmmmm… how to compare the two…
The more expensive place definitely has the nicer looking equipment. Basically, their entire fleet looks uniform — red paint, big white letters, cool looking logo. Plain and simple, from their trucks right down to their wood chippers, their stuff looks sharp.
The cheaper place is a hodge-podge of sorts. White pick-up trucks, various coloured bucket trucks, orange chippers, and a green stump grinder. And the pick-ups are the only pieces with an identifying logo.
Not that presentation is everything, and not that I can relate real well with the tree service contractor type of business, but I know I always have more interest in the RFP's printed on linen paper over those printed on single-ply recycled toilet paper. One is more professional. Obviously.
On the other hand, again, you can put all the lipstick on a pig (or decals and paint on your equipment) you want but it's still a pig. Or a pitbull. Or Sarah Palin. Or however that went…
The more expensive place is winning so far…
On the other hand, the cheaper place provided us with the quote on a custom carbon copy quote form. The more expensive place put the quote on the flipside of a business card.
Estimate 1: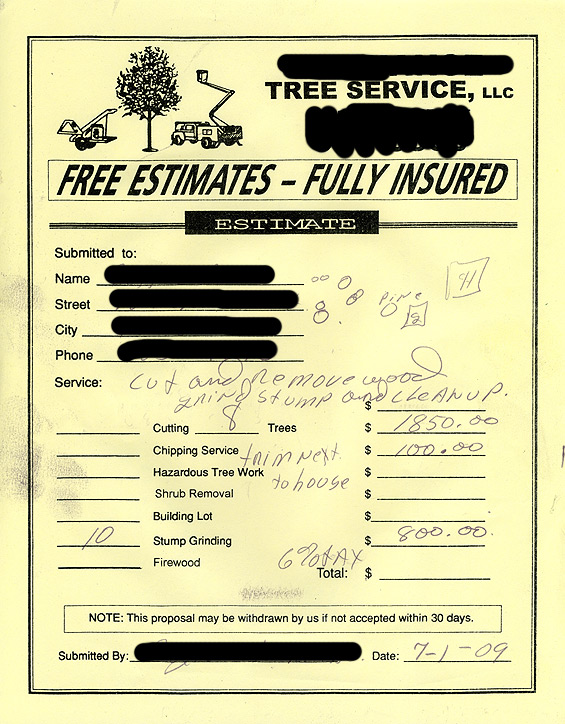 Estimate 2: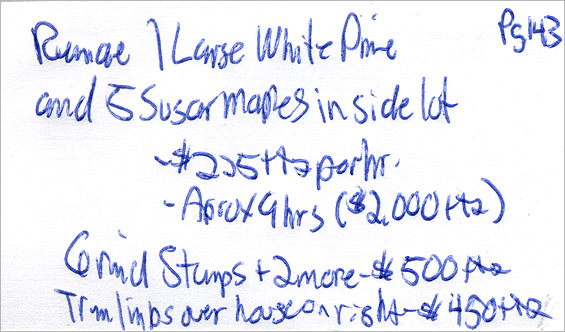 I know first hand that it's a pretty big expense to have custom carbon copy forms made up, especailly when they're not at all essential to the business that you do.
For years I've contemplated having custom window envelopes made up for my own company's invoices but it never made much sense to spend so much for something that I'd only send to companies whose business I already have…
This, on the other hand, is something that they were using to attract new business. And, at some point, they decided that it was worth the expense.
And you know what?
In this case, it worked.
Largely, for that reason, a simple yet fancy quote sheet, that first company is going to be the one that gets my business. From the business side of things, they're the more professional of the two.
Luckily, they're also the company with the cheaper quote.
– – – – – – – – – –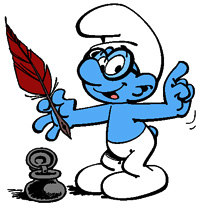 PIAC Post Extension:
The quote form wasn't the "only" reason we selected the first place. After giving us the quote, the first guy who came out asked us if we were having anyone else come out to give estimates. We said, yes, and told him the name of the other local company.
His response, no joke, was, "Oh, they're great people. A nice family. They do good work."
Back in 2007, when our siding contractor asked if we'd had anyone else come to price the project he called our other option lazy and a crook.
In hindsight, I wish we'd hired the lazy guy who was a crook because I can't imagine he would have put us through the rigmarole the contractor that we selected did. Just thinking about it makes me angry — a two week project took them FIVE MONTHS!?
Basically, this response earned some bonus points for the first guy — not only because he asked the question AFTER he'd given the quote but also because he didn't bash his biggest competitor in front of a potential customer.
Now, the second guy who came out never asked if we'd already gotten a quote from someone else but he could probably read it in our eyes. Upon delivery of his, um, business card, he mentioned that the cost quote could come down some depending on how much time it took to truck everything away once it's all cut down.
Hey, that's their problem, not mine. I didn't really like that false "tease".
But he also said that if we paid cash, they'd waive the sales tax… Unfortunately, it wasn't enough to cancel out the terrible quote delivery method…
Anyhow, this afternoon, we called the first place to let them know that they'd "won" and come Monday, the sun will shine upon us a little bit brighter!
(That is, if the sun ever comes out… It's been raining for over a month, it seems…)