Net Worth Update: August 2009 (+$9,071)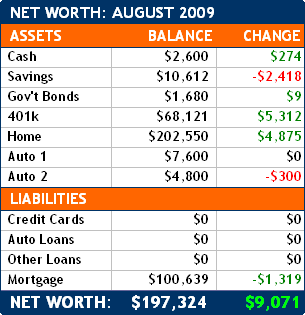 My net worth is now officially the highest that it has ever been — I can feel the $200k mark coming this month.
I used to think that a high net worth was all about the assets but, for me, that isn't how it's panned out.
See, my total assets have been higher in the past. Quite a bit higher, actually, but I always had HUGE liabilities canceling them out.
This coming month, my liabilities will no longer total a 6-figure dollar amount.
Sure, the surging stock market and seemingly re-energized housing market are driving my assets up right now but the constant and continually decreasing debt is what's really been steering me in the right direction for months.
Okay, here's the breakdown:
Cash:
While I haven't reported my spending for the month of July yet, I have hinted at the fact that I spent a lot of money over the past few weeks. A lot more than I usually do.
So how'd this segment of my net worth increase?
It's called a three-paycheck month.
Savings:
I took a hit here.
The decrease stems from that tree project we had done at the start of the month. Total bill for the project came out to be a little over $3000 ($2750 for the work, $165 in tax, and $80 for grass seed).
I don't regret it — it was money well spent.
Gov't Bonds:
Finally that big deposit that I dropped in back in April makes a difference. I haven't earned $9 in a month in this category ever.
As usual, I'm wishing that I had even more in there earning over 5%…
401k:
I'm on the cusp of my all time high here as well.
On May 19, 2008, my balance was $68284 ($163 more than my current balance) before the bottom fell out. I bottomed out on November 20, 2008 when my balance dipped to $43498.
So, I basically feel like I'm back where I was 14 months ago and on track.
Home:
This was unexpected. Each week when I'd check Zillow, the "zestimate" on my house would be $500 higher. While I don't use the Zillow "zestimate" on it's own to report the value of my home, it is a piece of the equation.
Auto 1 & Auto 2:
Yeah, yeah… The BMW is worth $300 less… Hopefully next July the taxes on it will be more reasonable.
Credit Cards:
Holding steady here. I used to think that it would be impossible to maintain a zero balance here but honestly, once you get down to zero, it's not that hard.
Auto Loan:
Nothing to report.
Other Loans:
Thankfully, I don't have any "other" loans.
Mortgage:
My goal here has been to pay off over 1% of the mortgage each month and I did it again this month with some more automatic payments on a weekly schedule.
I sort feel like I'm going to ease of the pace a bit when I get the balance under $100k (later this week) but I still want to keep things rolling to have the mortgage paid off by 2014 at the latest.
I've got plans…and monthly mortgage payments are getting in the way. ;0)