Net Worth Update: September 2009 (+$6,991)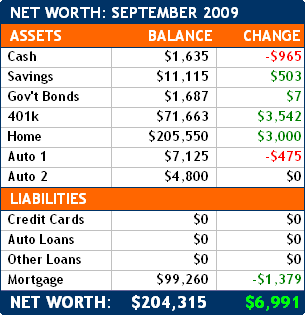 It doesn't feel right to come out and say that I had a down month when my net worth increased by so much but I truly feel that August was a down month for me financially.
I kept pace on the mortgage and broke through the 6-figure threshold — that's the best it got.
My savings pace is way down partially because my checking account is drained. My checking account is drained entirely because I spent too much.
How's that for an excuse?
I haven't yet posted August's spending report but it was out of control. Again.
Anyway, before I start going off on some unrelated tangent, here's the latest net worth breakdown:
Cash:
Can you say depleted? For some reason, I just can't seem to shake the paycheck-to-paycheck type routine — working my checking account down to around $1k on a regular basis.
I keep telling myself that I was $5k to be the 'new' $0 but I just can't seem to get there.
Savings:
The money just wasn't there this month to keep the aggressive weekly transfers up. In July, I was adding over $400 to this per week. At the end of August, that weekly transer was down to $15.
I'm going to right the ship in September though — details on that farther down…
Gov't Bonds:
Another seven bucks. Woo-hoo!
401k:
Another great month. That makes it six in a row!!!
Home:
Not that I even came close to being "underwater", the value of my home is comfortably higher than what I paid for plus all of the expensive renovations I've had done.
Best of all, my loan-to-value percentage is nearly 52%. That means I "own" more of my house than I "owe". Sadly, though, I'm still stuck paying PMI. Boo.
Auto 1 & Auto 2:
Seems that 2005 Scion xA's are worth as much as they used to be…
Mortgage:
Nearly identical to last month, I'm still on pace to have the house paid for in less than 4 years.
That said, I'm seriously considering easing off the accelerator a bit in favor of padding my savings account. See, I can't stand the first floor of my house. I want it gutted. Badly.
I know, that's a total flip-flop from what I said just a few months ago but I'm thinking that if I put off the HUGE mortgage payments for one year, I can pay for a first floor renovation without having to finance much of anything.
Then, next Fall, I'll pick up where I left off on the mortgage *and* have a house that I'm not ashamed of — and one that a toddler can safely crawl around in.
Wishful thinking, perhaps, but it never hurts to have a huge pile of money tucked away in savings…