Net Worth Update: October 2009 (+$10,651)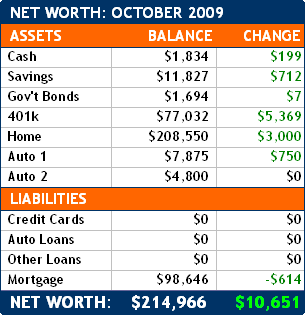 How can anyone complain about a 5-figure net worth increase?
I dunno but yesterday, before actually running the numbers, I did.
Really, even though every single line is green, I don't feel that I had that great of a month, you know, financially.
If you look at it closely, besides buying the right house 7 years ago to the day and sticking with my 401k over the past year when most folks bailed — I didn't actually make much progress this month.
Cash:
As is the norm, I just held steady here. The bad thing is that I usually contribute a ton to savings and my mortgage and staty steady. This month, I didn't really do that and I, well, stayed in that $1k-$2k window.
Savings:
I made two $350 tranfers late in the month to make this look respectable. ING dropped their rates again, down to 1.292%, so my rising balance isn't exactly giving me the returns I wish it would.
Gov't Bonds
No complaints here. I earn $7 for a balance of around $1700. If this money were in my ING savings account, it'd be earning way less than half of that.
401k:
Wow. That past 7 months have been nothing short of amazing. Though I've been contributing pretty heavily all along, since March, my balance has done up $29,364.
Home:
Home values are on the rebound big time. I don't care what anyone says. I'm thankful that mine never really dropped in value so much that I had to worry anyway.
Auto 1 & Auto 2:
How my car's value can bounce up and down so much from month to month is a mystery to me… In fact, I'm pretty sure I heard reports recently that used auto sales are way down for small cars so I'm not sure this number holds much weight.
Credit Cards, Auto Loans, and Other Loans:
Zilch. Zero. Nada.
Mortgage:
So after knocking over one percent off of the mortgage each month and breaking through the $100k mark, I took a huge step backward in September. I think it was a mistake so expect to see this stepped up again this month.