Net Worth Update: December 2009 (+$7,430)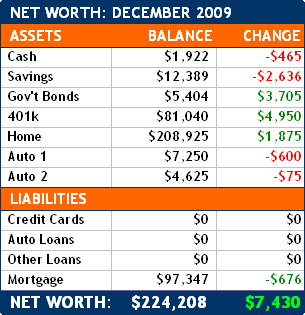 Well, it wasn't great news across the board but the bottom line was certainly nice.
A gain of $7430 works out to nearly three and a half percent and, at this stage, any time the gain exceeds even one percent, it's pretty substantial.
Anyway, here are the details:
Cash:
Not much movement here but when I report my spending for the month in the coming days, well, I should be quite happy with a drop of just $465.
Savings:
I took it on the chin here this month but, nope, it wasn't the result of a spending spree. ( I wish!)
Gov't Bonds
This is where the money went! I hinted at it and then I did it. While I won't reap the benefits of this move for a few months, it'll earn me a lot more than I'd have earned keeping it in a savings account.
401k:
You know, the higher the balance gets, the more I realize how little my monthly contributions do. As I'm no longer earning an employer match, I'm beginning to think about pulling back in 2010 to further fund a few other areas instead.
Home:
While it's not the mansion that I really want, it *is* worth over double what I owe on it.
Auto 1 & Auto 2:
Eh, whatever…
Credit Cards, Auto Loans, and Other Loans:
Zilch. Zero. Nada.
Mortgage:
Staying the course here. I should pay it down faster. I want to pay it down faster. But I think I'm just going to wait until January to start up a new and more rigid payment plan.