Spending Report for November 2009
A few days later than usual but that's because I'm always reluctant to report less-than-inspiring news…
Without sugar coating it, I spent $3581.74 in November. That's a lot of money — far more than I can afford to spend each month.
Here's how it all breaks down:
$1500.00 : Mortgage
$653.00 : Homeowners Insurance
$297.33 : Hockey Jerseys
$166.52 : Business Expenses
$161.99 : Baby Stuff
$131.95 : Electricity
$116.08 : Water/Sewer
$111.50 : Cable/Internet
$105.15 : Gas
$102.31 : Natural Gas
$95.40 : Lowe's & Home Depot (the faucet project)
$64.51 : Phone
$60.00 : Cash
$16.00 : College Hockey Tickets
For $3500, you'd think the list would be longer…
Anyway, the biggie this month came in the form of the homeowners insurance. You'd think that I'd be upset by this but I'm actually elated.
See, this means that it's been an entire year with a conventional insurance policy — after 5+ years without on something inapproriately named the FAIR plan.
The hockey jerseys are what they are. Yes, I spend too much on them month after month after month but I'm not putting myself in debt doing it like I was in the past. For once in my life, I can afford it.
I'm working on it. Honest.
The "baby stuff" was a new car seat for Duncan. We did the single car seat thing — swapping it from one car to the other — for six months and that was enough. For those having kids in the near future, two car seats are the way to go. Sooooo much easier.
Everything else is just kinda routine stuff. And — since we're so far into December already I can tell you that this month isn't going real well either…
– – – – – – – – – – – – – – – – –
PIAC Post Extenstion: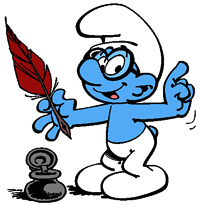 Yeah, so see that horrible picture of Duncan and Santa up there?
Well, though we usually shop at Target, this past weekend we wandered into Walmart and this ghetto Santa talked us into having a picture taken.
You can tell than Duncan is thrilled — he *was* looking pretty enthusiastic as I dug through that $5 DVD bin moments earlier. No so much in the arms of, um, Santa.
Hey, to this Walmart Santa's credit, his beard was real but my wife got that icky alcoholic drug addict vibe from him. I wanted to disagree but really couldn't. He was a dirty Santa in a dirty Santa suit — about what you'd expect from Walmart.
At least it was complimentary…