Beware of the Pink Snowman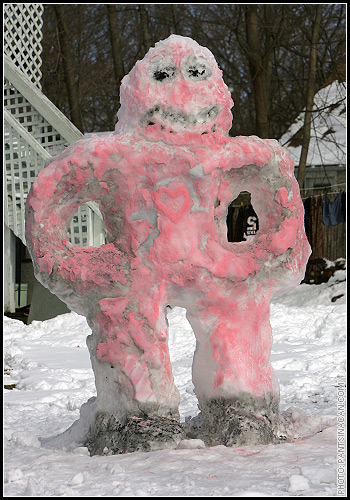 Last night I posted that I'd managed to only spend $2999.72 for the entire month of February.
Well, already today, just one day into the month of March, I've spent more than that.
Yep, $2000 towards the mortgage, $900+ to the fine folks at Allstate for auto insurance, and a couple hundred dollars as a business tax payment…
And it gets worse — we have a few pricey auto repairs on the horizon (this coming weekend), the need for a new vacuum cleaner (this week, hopefully), and there's something else that I'm strugging to remember right now but it's expensive too…
By the way, isn't that a great snowman?
We had snow in the forecast pretty much every other day up in the northeast all month long and a house just around the corner — and on my way to work — had this beast in the front yard.
The people that live there are, well, I'd classify them as white trash (who hangs laundry out to dry in a snow storm on a regular basis?) but, man, they build a mean snowman.
He was a little past his prime when I took this photo but you get the idea — he was a two-legged pink Valentine's Day snowman — easily 8+ feet tall.
Simply awesome.
I'm hoping that his awesomeness can deflect some attention from my HUGE expenditures.
Is it working?