Net Worth Update: April 2010 (-$1,521)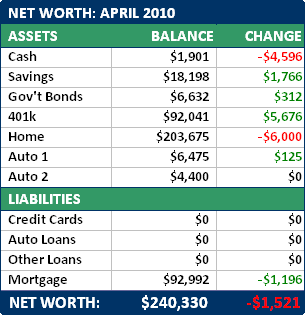 A day late and a dollar short…
Okay, okay, okay… It's actually over a week late and over a grand short…
Let's see… Where to begin?
I don't really know. Plain and simple, I just spent too much last month and it shows in this update.
It wasn't just the vacuum or even the car repairs, auto insurance, and business tax payments that I mentioned in that Pink Snowman post…
Yes, I'm still plugging the Pink Snowman.
He's still awesome.
The post may have been terrible but the picture, well, a picture is worth 1000 words. That explains why the post was lacking. Seriously…
I couldn't measure up.
Anyway, here's how things went down:
Cash:
What can I say? I spent a lot of money in March and I'll detail it all in the next day or so in my spending report. Really, though, this looks a lot worse than it actually was since my starting point was inflated due to having just received my tax refund.
Savings:
The interest rate sucks but I'm throwing more and more into savings each month. Someday I'll actually do something with it!
Gov't Bonds:
The interest rate doesn't suck so bad here. I'll re-evaluate where I'm going with these as the end of the month approaches and the rates are on the verge of being updated.
401k:
I think I just might hit 6-figure mark this year. Woo-hoo!
Home:
D'oh!
Auto 1 & Auto 2:
Hmmmm… now that Toyota has discontinued the Scion xA model, it appears to be going up in value! How about that… ;0)
Credit Cards, Auto Loans, and Other Loans:
Zilch. Zero. Nada.
Mortgage:
Still cranking along sending in $175 extra per week. You want to pay off your mortgage (or anything) quickly? Weekly payments are the way to do it…