So you might be wondering, "Brainy, how on earth are you going to pay for a $33,487.70 renovation when the last time I checked, you only had $16k saved up?"
Well, we're going to split it — half from savings and, since it worked out so well on the siding project, half on a credit card… my wife's credit card.
You know, with her superior credit score and all, the single credit card she carries has a better offer on the table right now than any in my arsenal.
We're going to go with $17k at zero percent for 12 months with a 2% ($340) transaction fee.
Here's my super conservative plan on how we'll wipe that one out with $750 monthly payments: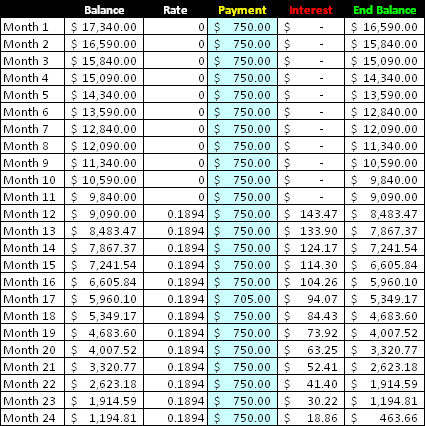 Using this super conservative payment plan, we'll pay over $1k in interest (which doesn't exactly make me all warm and fuzzy) but the pace is so conservative that I'll be able to rebuild my savings rapidly at the same time.
If it gets to the point where I can't handle the idea of paying the interest, well, my savings will have grown enough so that I'll be able to pay it off in full — if I want to.