Renovation: Before Photos (for the Curious)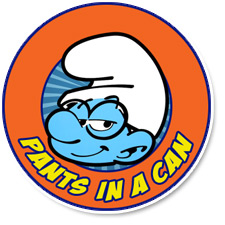 Okay, so I've been living in shambles for quite some time. I'm not proud of it. It's embarrassing.
It was way back in October of 2008 that I offered a glimpse of the inside of my house.
That's how bad it was nearly two years ago.
Crazily, it had already looked like that for at least a year.
Yikes.
A month later, I "touched" it up with a new carpet in some sort of sad attempt to hide something that could not be hidden.
…and so I "pretended" that it didn't exist.
From there, I invited everyone in to see my son's bedroom a few weeks before he was born. I think it made my house look pretty top notch.
Did anyone even remember "that" scary room downstairs?
I was hoping not.
And then last summer, I took it outside and ran some interference by making that cool timelapse video of the trees coming down.
I should have been working on the room, though.
Bringing it up to the present — we've signed off on a $33k renovation. The work, err, demolition started this week so we're off and running. Woo-hoo!
"That" room won't look like that for much longer so now I'm going to invite everyone in to see what the 600+ square feet we're having completely re-done looked like, well, just a couple of weeks ago.
Okay, we'll start with "the" room. This is the first thing you see when you walk in my house. Sure, the arcade game in the corner is cool (it works too!) but Jim Henson covering a wide open heating duct, a creepy painting my father painted 40 years ago, a photo backdrop clamped to the, um, ceiling joists, and, well, a complete lack of walls or ceiling, yeah, that's not cool at all.
To the room's credit — this is actually an improvement over the wood paneling and "earthy" shag carpet it sported when I purchased the house in 2002.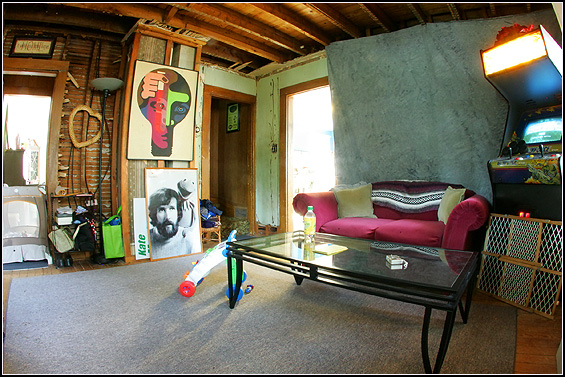 Up next is the parlor that we've used as a living room. When I bought the house, it had the most awful wallpaper. We tried in vain to remove it and then just ended up painting over it.
The yellow actually looks pretty good in person. Outside of the Cozy Coupe, the miniature chair, and the cool smiley face volleyball — we threw out everything in this room.
The couches were salvageable but were just a tiny bit too big for the room. The big shelf on the left came from IKEA. It was nice too but we couldn't get it out of the room — it wouldn't fit through the doorway — so I took a circular saw to it.
You can't see the television either but we brought that upstairs to the bedroom. When it's all said and done, we'll buy new furniture and a new flatscreen tv too. It's time to start over.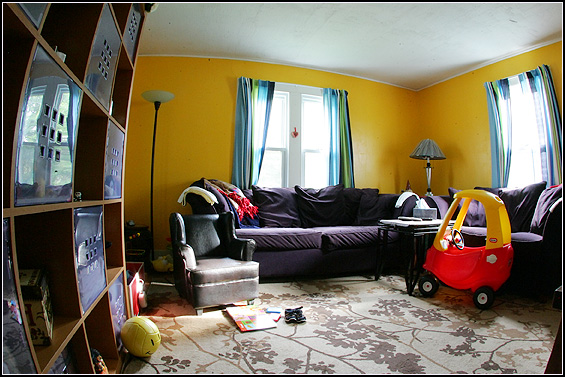 The next room is the dining room. We threw out the table a couple of years ago — we never used it since we have an eat-in kitchen — so the entire room sorta turned into a very disfunctional storage room.
Diapers were stacked in here. We parked the stroller in here. My awesome vacuum cleaner lived in here. My hockey equipment used to reside here. Our recycle bin was in here too. Yeah, it wasn't very nice.
The piano came with the house and, like the couches, it's just too big for the room. While I like having a piano, none of us know how to play it. It's gone now. (We kept the bench, though!)
See that horrible-horrible-horrible carpet? Yeah, I didn't pick it. I just couldn't get it out of there so I just dealt with it. Seriously, though, who would have chosen that carpet? Ugh…
And those corner cabinets that don't match anything? Well, those came from my parents. We didn't throw them out — they're actually kinda nice — but I have a feeling that their new home will be in the garage once we take them out of the POD.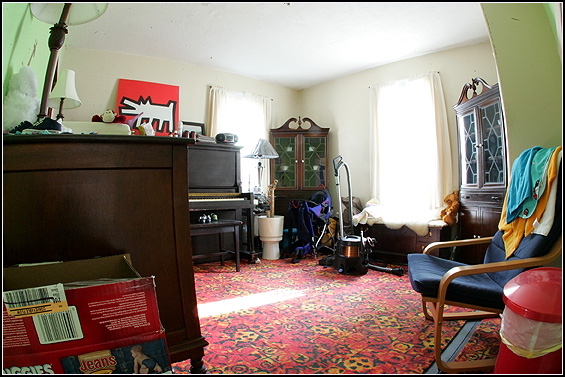 The last area is the stairway. It's an old house where the stairs are steep and narrow. Structurally, there isn't much we can do about that but at least here you can see the remaining paneling and shag carpet since I know you're interested.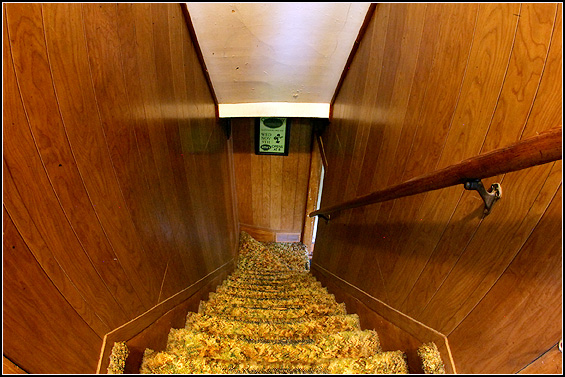 Wow — that was embarrassing.
I hope you enjoyed it though! I mean, it's always kinda neat to see how other people live — especially when it's this, um, rough.
Later this week I'll start posting updated photos…