First Piece of Furniture? Punch-Out!!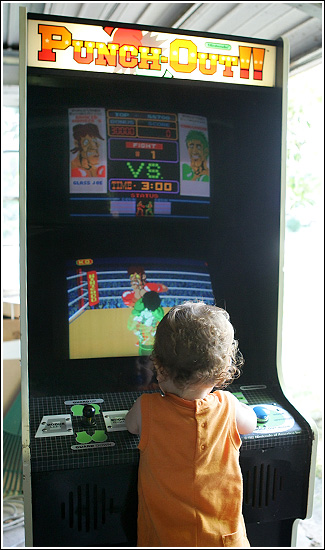 Okay — so yesterday afternoon I picked up the first piece of furniture for our newly renovated rooms.
That's it over there to the right…
Yep — I bought the 26-year old arcade game Punch-Out!!
The last time that I played this game — and if memory serves me, the *only* time — was at a roller skating arena called United Skates of America. I was celebrating my 8th or 9th birthday.
Anyway, I'm 34 now. You don't have to do the math… it was a brand new game when I played it *and* a big attraction in the arena… How I was able to get my turn is truly a mystery — Punch-Out was a big deal back then. Seriously…
As for that old the roller skating arena… Well, it's been long torn down and a big box store's parking lot is there in its place.
Perhaps that's why I haven't heard anyone mention a skating party since, wow, probably 1989… That's too bad. It was one of my better birthday parties.
And what ever happened to that old Punch-Out machine from the roller arena?
Well, it's in my garage right now as you read this. For real. I swear — I own it.
Now I don't know for sure that this is the same exact machine that I played way back in the 1980's but I do know that its condition is unbelievable — as if I really were the last person that played it a quarter of a century ago.
I mean, compared to my other arcade game (which was manufactured in 1991), this one is in amazing condition. Such a great purchase.
I like it. I mean, it's a freakin' classic.
Duncan obviously likes it too. That's him up there delivering one body blow after another on poor Glass Joe.
And the wife, well, she let me use her truck to pick it up so that at least means that she didn't veto it.
So where's it going to go?
Well, if you've been following my home renovation updates, it's going to be in what was once the dining room. We're going to make that the computer room — one side will have all of our computer equipment (which is currently upstairs) and that green wall up against the stairway will have our two arcade games.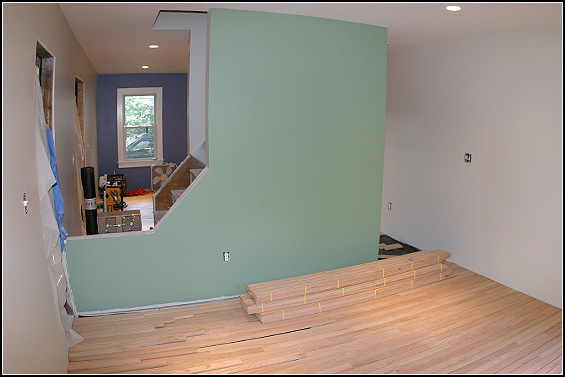 What, you didn't think I requested that electrical outlet there for something else, did you?
Now if we can only manage to get them in there (they weigh around 300 pounds each…) without messing up the new floor…
Anyone wanna help me move them?