Net Worth Update: September 2010 (-$9,854)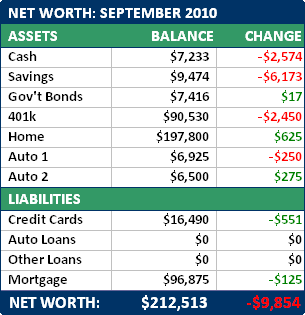 A nearly $10k loss is hardly a surprise after analyzing my recent spending of late.
I mean, duh, of course my net worth dropped!
Anyway, I still feel like I'm in pretty good shape considering all of the money spilling out to cover the cost of the renovations we're having done.
Once that's in the rear view mirror — likely later this month — I'm thinking I'll recover pretty quickly.
Here's the breakdown:
Cash:
This should be higher and I'd feel a lot more comfortable if it were higher but my fear of falling back into deep credit card debt lead me to dip a little deeper to pay off the balance.
Savings:
Think the roughtly $6k drop had something to do with a $6k check made out to a contractor? Yep, they're related.
Gov't Bonds:
I go back and forth with these. Some days I hate how inconvenient they are. Other days, I like that the money is a bit of a hassle to get at. Eitherway, the interest rates I'm currently earning are quite nice.
Home:
After the renovation is complete, well, I'll wish this number was higher. At least I'm no where near underwater and never even came close.
Auto 1 & Auto 2:
My BMW still won't start but its value went up. Gotta love those $6500 paper weights! (We'll get it running again in the Spring, I'm thinking…)
Credit Cards:
Having paid off all of the vacation expenses that we charged already, this is just the remaining balance on that big cash advance we took. It's at 0% for another 8 months or so…
Auto Loans and Other Loans:
Zilch. Zero. Nada.
Mortgage:
So I'm back to paying the mortgage. It feels so strange to only be making the minimum payment after years of overpaying two or three times as much as I needed to. I don't really like seeing that the principle only dropped $125 but I'm going to try to get over it.
With a mortgage payment so low, following the re-fi, it just doesn't make sense to overpay right now.