Networth Update: January 2011 (+$7686)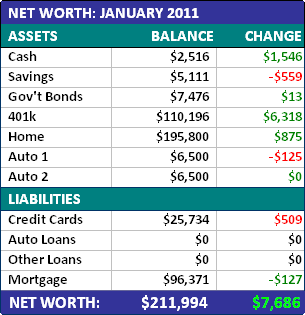 A pretty nice gain to start the new year!
While my balance sheet isn't quite as nice as it was at the start of 2010, as long as the trend is upwards it's all good…
Here's the breakdown:
Cash:
Things aren't always as they appear. This number is where it is because I got paid on December 30th and didn't have time to move it to savings or towards the credit card balance yet. Already, now, just two days later the balance is a good $1200 lower.
Savings:
I've been continually contributing to my savings accounts on a two-times-per-week basis for a few months now but I moved over $2k out this month to pay my property taxes.
Gov't Bonds:
I hope the variable return rate on these increases this coming May. With mortgage rates finally ticking back up, hopefully these will follow suit. If they do, I'll be back in the game buying up the maximum dollar amount allowed in 2011.
401k:
For the year, I contributed just over $12k. On the year, though, I'm up nearly $26k. I often debated stopping my contributions in 2010 but doubling your money without hurting the wallet at all is pretty good incentive to stick with it.
Home:
I'd though that the new tax accessment would have influenced this number a lot more than it did. Turns out, the assessment only makes up a tiny portion of the calculation I used to guesstimate this number each month.
Auto 1 & Auto 2:
No worries, they're paid for.
Credit Cards:
Ugh — so mad at myself for not putting a dent in the balance. December was a bit of a funk and this wasn't a priority.
Still, I made some pretty large payments along the way and *thought* I kept my spending in check, credit card wise anyway, but apparently not.
I'll have a new (old) strategy underway this week to get things rolling in the right direction so I can repeat past successes. Quickly.
Auto Loans and Other Loans:
Zilch. Zero. Nada.
Mortgage:
Same thing I've been saying for months… Just another minimum payment. Since the re-fi, I've totally flip-flopped and hopped on that bandwagon of folks that say that overpaying the mortgage is stupid. I totally agree with them — but only if your monthly payment is insanely low…