Networth Update: March 2011 (+$14403)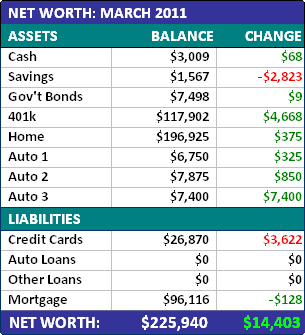 Wow, it's like something from the land from the land of Honalee or something.
I mean, I didn't think a car purchase would, well, boost my net worth any. In fact, I thought it'd result in a negative month…
Anyway…
Cash:
It's just plain magic that this is where it is — or maybe it's that the tax return refunds came in?
Savings:
I tapped into my savings account to buy a car last month. Hey — that's what the savings account is for, right?
Gov't Bonds:
Chuggin' along a few bucks at a time…
401k:
It's really becoming more and more clear to me that it takes money to make money. A 3.5% gain doesn't really seem very impressive until it equates to over $4k. Unfortunately, sometimes the drops outweigh the gains but not this month…
Home:
Hmmm… Maybe it'll hit the $2k mark again? Actually, Zillow has it listed at $206500 right now and they've no idea what's been done to the interior… I'm just sayin'…
Auto 1, Auto 2, and Auto 3:
Okay, this is where the big gain is this month.
Credit Card:
Am I still on track to get this back to zero by the end of the year? Maybe. That's all I have to say for now…
Auto Loans and Other Loans:
Even with a new (to me) car in the fleet — there are still no auto loans. Woo-hoo!
Mortgage:
Same thing I've been saying for months… Just another minimum payment. Since the re-fi, I've totally flip-flopped and hopped on that bandwagon of folks that say that overpaying the mortgage is stupid. I totally agree with them — but only if your monthly payment is insanely low…