Networth Update: May 2011 (+$5304)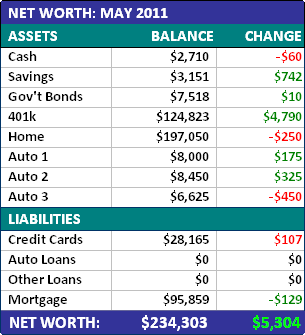 Ever get the feeling that numbers lie?
Sure, my net worth gained over $5k this past month but my debts seemed set in stone. No movement there and so the month felt like, well, like whatever 30 days of treading water must feel like.
I'm not happy with it but things should turn around soon…
Cash:
Just trying to keep a nice cushion here and, so far, it's working.
Savings:
I should probaly redirect some of this towards debt but that 5-figure balance that I had in here a few months back made me really content. I want that feeling back — even with the debt.
Gov't Bonds:
I'm pretty sure these will earn even more now that the inflation rates have been adjusted upward. Not yet time to start buying more but perhaps after November 1st.
401k:
Sometimes I wish I could tap this — if even for one month's worth of gains.
Home:
Eh, whatever…
Auto 1, Auto 2, and Auto 3:
Was adding a third (and technically fourth) vehicle to our fleet a good idea, financially-speaking? Probably not. But it sure makes family road trips a lot easier.
Credit Card:
Shoot me now. I haven't posted a spending report lately but I should. It'd shame me into getting this under control. I had this moving in the right direction until the last day of the month — then I blew it.
Auto Loans and Other Loans:
Nothing to report! Woo-hoo!
Mortgage:
Same thing I've been saying for months… Just another minimum payment. Since the re-fi, I've totally flip-flopped and hopped on that bandwagon of folks that say that overpaying the mortgage is stupid. I totally agree with them — but only if your monthly payment is insanely low…