Networth Update: July 2011 (-$370)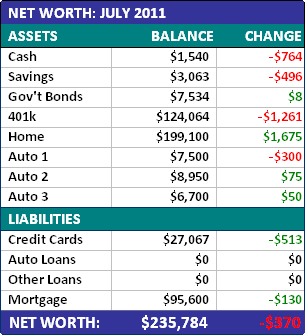 Well, it was bound to happen sooner or later — a negative month that is…
It wasn't as bad as I'd expected, though… I mean, I've been prediciting this "report" would come for months — just take a look at the last four or five net worth updates…
Cash:
Yes, I know. I spend too much.
Savings:
I had to dip into this a bit this month to cover the repair costs for that little accident I was in. Thank god I had the money available!
Gov't Bonds:
Still sticking with these. You know, some of them are earning over 6% right now? Wish I'd bought more back then…
401k:
Stange month on the markets. It was high at the start of the month, dipped around $6k in the middle, and almost recovered fully by month's end.
Home:
Not sure what brought the Zillow number (part of my home value calculation) up so much this month but I'll take it. Hey — I have the highest valued house on my street right now! How about that?
Auto 1, Auto 2, and Auto 3:
Nothing terribly earth shattering here.
Credit Cards:
Sigh… Knocked another $500 off but I was hoping to knock at least $1k per month. The money just wasn't there.
The good news is that most of it is still at 0% and the balance is falling. I've got to pick up the pace here, or formulate a span, or something, though…
Seriously, what happened to my financial goal for 2011?
Auto Loans and Other Loans:
Nothing to report! Woo-hoo!
Mortgage:
It's now officially been a year since we refinanced the mortgage and since then, I haven't sent the bank a single penny extra.
After 8 years of over-paying, sometimes even double the amount, it feels weird. Progress is definitely slow and I thought it'd have a larger effect on our overall finances than it has.
That said, it's *very* comforting to have a sub-$500 mortgage payment for (insert tongue-in-cheek) the previously mentioned highest value home on the street…