Networth Update: August 2011 (+$17069)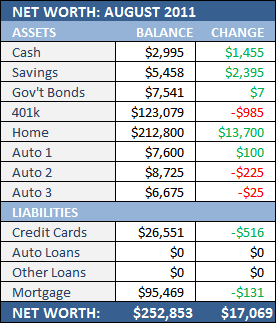 I know I sound like a broken record sometimes.
And I know it makes little sense to complain about the dismal status of my finances when posting about a $17k gain but… bear with me.
I beleive this is the highest that my net worth has ever been. I should be happy and, in a barely noticable sort of way, I guess I am.
But the credit card balance — and my total inability to pay it down as fast as I'd like (the way I have in the past) — is really wearing on me.
So here we go…
Cash:
July was a three paycheck month for me and this is where that shows.
Savings:
This looks too good to be true, right? Well, it sorta is. I took in a $5000 windfall.
That sounds awesome, right?
But then you notice that this balance increased less than half that amount.
See what I mean? I'm in a tailspin lately…
Gov't Bonds:
Same old story here — except since the first of the month, I've been forced to sell off a pretty heft chunk. You'll have to wait for the explanation on that…
Home:
Seriously? What's up with this? I have no idea but it certainly makes the month look a lot better (on paper) than it actually was.
Auto 1, Auto 2, and Auto 3:
Nothing terribly earth shattering here.
Credit Cards:
I just can't get this number to budge. Even worse, the biggest balance I have is no longer 0%. Ugh.
And to think, I thought I could be debt free again by the end of October…
Auto Loans and Other Loans:
Nothing to report! Thank heavens!
Mortgage:
Oh how I miss the days when I was overpaying this to the tune of $1000 with ease…