Networth Update: October 2011 (-$10237)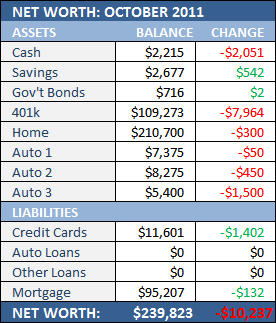 Yes, I know I'm 3 weeks late with this…
What can I say? I'm in a funk. A $10k loss will do that to ya…
But really, things are going pretty well financially.
Sure, money's tight, but this latest round of debt elimination is moving right along. I see the end of the tunnel already and I'll be right back where I was the last time I was debt free.
Seven or eight more months is my guess…
Here's the breakdown:
Cash:
It's tight. I've been sending $300 per week (on an autopayment) towards debt and whatever's left at the end of the month.
Savings:
This is essentially an account where I'm tossing $135 in per week to cover my property tax bill (due next in December) and anything else unexpected.
Gov't Bonds:
This is my emergency back-up.
401k:
Ouch. Things are so volatile lately. One day I'm up $2k and the next I'm down $4k. This number totally depends on what the last day of the month looks like. I think the top and bottom value for this month were over $17k apart so, yeah, it's all over the place…
Home:
Yep, I live here.
Auto 1, Auto 2, and Auto 3:
Evidently this wasn't a good time to own a car in Connecticut.
Credit Cards:
Now we're getting down to business. The HUGE drop last month probably won't happen again anytime soon as I don't really have anywhere else to pay it down in $10k chunks.
This pace is more like what I'd expect it to be from here on out and I'd expect that by the end of this month, the total balance will be under $10k.
Auto Loans and Other Loans:
Nothing to report.
Mortgage
Just another minimum payment.