Duncan's Guitar and a Debt Update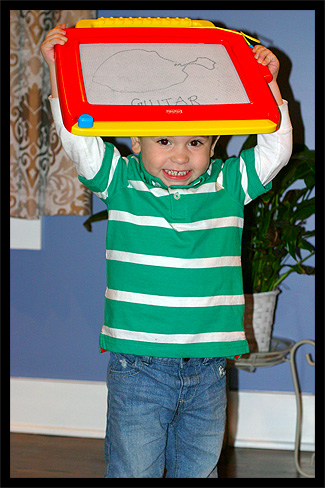 I can't tell you how awesome it is that Duncan can now draw something totally recognizable.
Sure, it might look a little like a leg of lamb or one of those giant turkey legs you see at Disney World but he called it a guitar and my wife labelled it as such.
As proud as I am, though, and as truly excited I am to soon see those horrific family drawings in the near future (you know, where everyone has a huge head, crazy hair, and no legs), in an odd sort of way, I kinda wish he'd drawn an instrument, you know, that all the cool people in high school play(ed).
Like a tuba or something.
Maybe next time…
– – – – – – – – – – – – –
In other news, my total credit card debt balance is down to $7045.14.
Not too shabby — that's $1350 lower than it was at the start of the month.
Oh, and yes, I played the tuba.
And I was tres cool.
I'm just sayin'… the tuba is really cool.