Something I Don't Understand…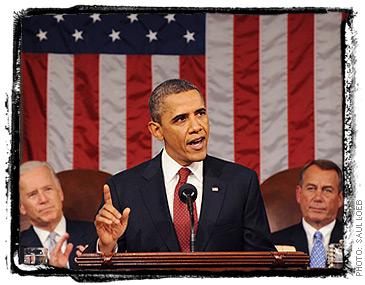 During President Obama's SOTU address he touched on something about making it easier for people to refinance their mortgages at the current bargain basement prices and today I've seen two or three articles about it.
I haven't researched it (at all) but I'm assuming that this is some kind of after-the-fact reactionary federal government proposed "solution" to the housing crisis of the past few years, you know, an attempt to quell the number of foreclosures that dot the landscape.
But that's where I lose the connection.
Refinancing at a lower rate (at best, 3 or 4 percent lower which, technically speaking, is nothing) doesn't solve the foreclosure problem.
For instance, my newest neighbor moved in back in 2006 and paid around $275k for their home.
In general terms, it's pretty much the same house as mine except that I only paid $141k for mine in 2002.
Following the housing "slump" our homes are currently only worth around $200k.
It's not rocket science to come to the conclusion that my neighbors are underwater (they owe more than the house is worth) and are likely prime candidates to "walk away".
The re-finance "solution" won't ease their pain.
It's not the interest rate on their mortgage to blame — it's that they paid too much for their house.
So what's the point of this government proposal again?
To make it easier for people who can't afford homes in the first place…again?
It's too soon for history to repeat itself.
This blog apparently is repeating itself…
Back in 2008 I asked, Are Home Values Important to the Economy?. That post was along the exact same line.
It was a better read, though…
I've lost my touch.
No, really…
– – – – – – – – – – – – – – – – –
Full Disclosure: I freely admit that I benefited from the easy and available money back when I purchased my home with a tiny tiny tiny down payment.
Yes, mortgages were easy to come by and I'm fortunate enough to have rolled the dice, made a "wise" investment with the money loaned to me, and come out the other side a winner with a low rate, a low monthly payment, and a house worth more than double what I still owe.