Networth Update: March 2012 (+$3324)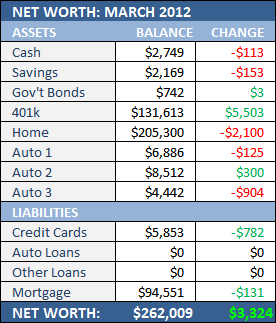 February has traditionally been a "wild card" month around here.
It's usually because I've normally done my tax return in February but not this year — I sill haven't found the time to sit down and do my taxes so this year, well, February's just another month…
Lotsa red over there but the 401k bailed me out…
Cash:
Not much movement here. I spent pretty freely this month and I think it shows.
Savings:
Yep, I spent so freely that I had to take some from my savings. Actually, it was dentist bill but, still, I'm not proud of it.
Gov't Bonds:
Woo-hoo! Three clams!
401k:
There's a guy at work (a longtime co-worker) who mentioned a couple of weeks ago that he'd just recently topped the $500 mark in his 401k. In response, when I told him that I'd just recently eclipsed the $130000 mark, I'm pretty certain that he didn't believe me.
I drove my BMW to work the next day just to subtly rub it in. I still don't think he noticed. Maybe tomorrow I'll drive it again and park next to him…
Home:
We had some trees taken down by a landscape service to the tune of roughly $2100. Coincidence?
Auto 1, Auto 2, and Auto 3:
Poor auto number three…
Credit Cards:
Not nearly enough of a drop here. As I said, I spent pretty freely in February but I've got that out of my system and the balances are all lined up to drop quickly again.
For the year, I've knocked out over $2500 so I'm still making decent progress…
Auto Loans and Other Loans:
Nothing to report.
Mortgage:
Just another minimum payment.