Networth Update: April 2012 (+$4221)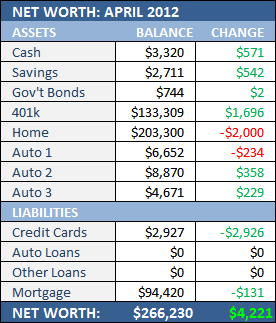 I can see the light at the end of the tunnel…
Thanks mostly to that insurance check, my credit card debt level is nearing zero again for the first time in nearly two years.
It feels good.
Here's the breakdown:
Cash:
Glad I've been keeping my distance from the Bank of America fee threshhold.
Savings:
This is the result of weekly transfers of $135. Basically $95 goes in each week to cover my property taxes that come due in July and Decemeber. The other $40 is for whatever…
Gov't Bonds:
Why am I still holding on to these?
401k:
I'm pretty sure that this is the highest point I've ever reported. It was back in October that I broke the six figure mark and I'm up 33% in just 6 months while making no contributions. Crazy.
Home:
Ebb and flow.
Auto 1, Auto 2, and Auto 3:
Eh, they all work.
Credit Cards:
If the balance isn't gone this month, it'll certainly be gone next month. It's crazy what can be done when you really work at it and when some un-expected cash rolls in.
Auto Loans and Other Loans:
Nothing to report.
Mortgage:
Just another minimum payment for now but once the credit card debt is gone, I'll start attacking this more aggressively.