Networth Update: May 2012 (+4621)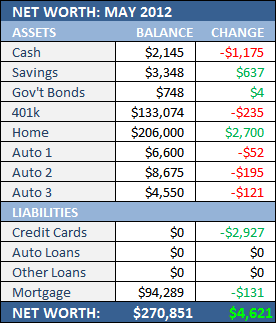 The big news this month isn't so much that my net worth has reached a new high but that I've rid myself of credit card debt again.
It doesn't feel as great the second time around but it's still a nice load off of my shoulders…
Anyway, here's the breakdown:
Cash:
This is a little low because, well, I extended myself a bit to get rid of the balances on the credit cards sooner rather than later.
Savings:
With the weekly credit card payments a thing of the past, the pace here should increase to the tune of around $1200 per month…
Gov't Bonds:
Hey, the rates are quite attractive when compared to a savings account…
Home:
Some months up, some months down.
Auto 1, Auto 2, and Auto 3:
They all dropped. Makes sense — they aren't getting newer!
Credit Cards:
Hooray!
Auto Loans and Other Loans:
Nothing to report.
Mortgage:
Just another minimum payment.
On second thought, you know, it does feel pretty darn great to have pretty much nothing to say about the liabilities.
Here's to hoping I can continue on this path for the rest of the year…