More Hot Air on my Spending Trend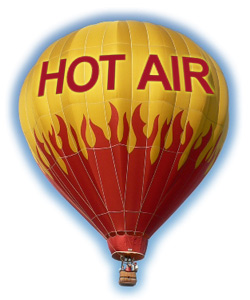 So after yesterday's post, I decided to dig a little deeper into my spending habits of the the past.
Having tons of data at your disposal can make things a lot easier to visualize, remember, recall, and repeat when you have to, like, well, um…
Basically, I'm on the verge of a BIG purchase and I'm not real certain that I can afford it or if I'm willing to make the sacrifice required to get it NOW.
That's where looking at my past comes in really handy. I can't stress enough how many times I've patted myself on the back for keeping such accurate financial records.
I used to be an advocate of Microsoft Money for this sort of thing (until they bailed on me) and have since made the switch to Moneydance.
Again, though, data is key. The more you have to work with, the better. I've got every transaction from my checking account logged back to April 28, 2007.
Yeah, I'm a hardcore.
I wasn't until around 2003, though, that I started tracking my credit cards, loans, mortgage, and "other" things. These days, there isn't a penny that goes unaccounted for.
Sure, that might be overkill but it's great to have an accurate financial picture.
Anyway, since my super duper totally complete records pretty much begin in 2004, I'll start there.
Here are my yearly expense totals and the monthly average since then:
2004: $55,594.06 or $4632.84 per month
2005: $66,791.22 or $5565.94 per month
2006: $78,530.31 or $6544.19 per month
2007: $81,046.25 or $6753.85 per month
2008: $49,342.55 or $4111,88 per month
2009: $48,665.80 or $4055.48 per month
2010: $80,810.52 or $6734.21 per month
2011: $68,196.61 or $5683.05 per month
2012: $32,369.51 or $4624.22 per month
2012 is obviously a work in progress…but with just a little over 4 months to go, it appears as if I'm on a pretty decent path.
The "per month" numbers makes things look pretty level but here's a chart of that same data: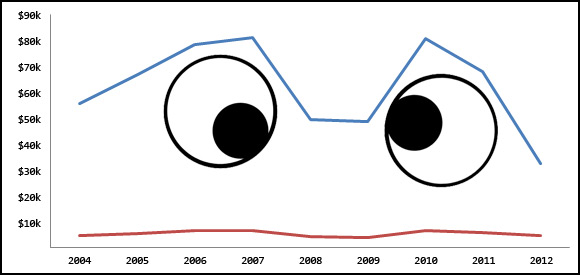 The googley eyes really add a certain "something", don't they?
Well, the brow line clearly shows that I was out of control in 2006, 2007, and again in 2010. All three years, though, had pricey renovation projects within them.
And that's where we're headed again for 2013…
I just wanted to make sure we could afford it and the numbers don't lie…
Well, the per month numbers don't lie.
The unibrow still kinda sorta concerns me.