Networth Update: October 2012 (+$4711)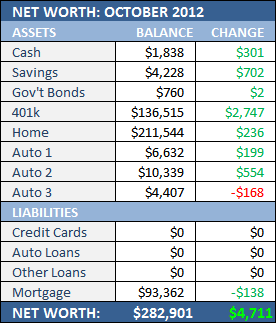 Yeah, yeah… It's been a month since my last post…
I know, I know…
Every time I fall way behind like this, I tend to lose focus. I still keep track of my finances but I don't really analyze them.
Pretty stupid considering I'm just beginning my quest to build a new garage…
So this info feels like ancient history at this point but for the sake of having a monthy net worth update, here goes:
Cash:
Same old story. Just treading water here.
Savings:
This was weak. I've been stashing away around $1300 each month but came up short right at the tail end of September and had to "borrow" $600 from myself. I say "borrow" but I just spent it. Just keepin' it real, folks.
Gov't Bonds:
Another month, another two bucks!
401k:
It's up! It's down. Just dumb luck that I was "up" on the last day of the month. This has been swaying back and forth between $130k and $137k from week to week.
Home:
I'm not selling so this number doesn't really hold a lot of weight for me.
Auto 1, Auto 2, and Auto 3:
It's hilarious to me that the oldest car I own is "apparently" worth the most. It's also hilarious that it all adds up like that considering it's the one that was in a big accident.
Credit Cards:
Sometimes I can't believe that I used to routinely carry $25k+ balances here… For real — check the archives!
Auto Loans and Other Loans:
Zilch. Zero. Nada.
Mortgage:
Back to the minimum payment again…