Networth Update: December 2012 (+$5231)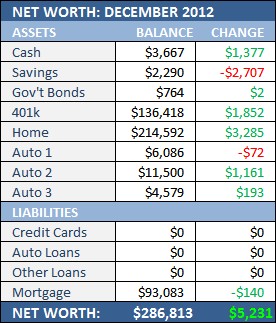 Finishing out the year on a high note with a new all-time high and it feels good.
I'm right at the onset of a pretty big transition regarding how I manage and "make" my money. It's more of an experiment than anything else but I'm hoping it'll give me a crazy expensive Christmas and propel me past the financial wall I seem to find myself looking up at.
Sure, my net worth is going up, seemingly continually without much effort, but I still "feel" pretty broke. The governemnt bonds are (and have been) a complete joke, the savings rate is essentially nothing, and I'm hardly contributing to my 401k. There's a better way to make your money grow than what I've been doing so… I'll be getting that going this month.
Cash:
November was a three paycheck month for me so this number is skewed.
Savings:
Aye Caruba?! Well, I piad my property taxes a month early just to get it in the books… and kinda to pad this month's net worth report. See, with that third paycheck on the income side, I could afford to make a huge tax payment and not have it create a HUGE slope change in my net worth. Sneaky, huh?
Gov't Bonds
Come December 3, these are toast. I'm finally doing it. While their earning a really nice interest rate (compared to today's rates), there just isn't enough month there to make them worth keeping. They'll be redeemed on December 3rd and the money will be "used" elsewhere shortly thereafter.
401k:
Just waiting for this fiscal cliff to knock like 30% of this away…cause politicians are stupid.
Home:
I'm not really sure why this is rising. I haven't seen any nearby homes sell lately and my garage is only getting worse.
Auto 1, Auto 2, and Auto 3:
Another head scratcher here… I guess BMW's make great Christmas presents so their value rises this time of year? Maybe?
Credit Cards:
Yeah, that's right. Christmas with a zero balance.
Auto Loans and Other Loans:
Zilch. Zero. Nada.
Mortgage:
Just another minimum payment.