Networth Update: February 2013 (+$10198)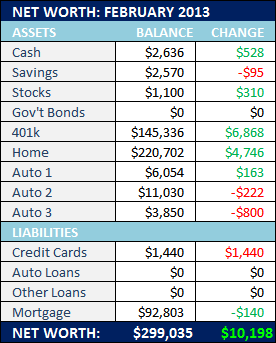 Wow. What happened?
I mean, I take a month and a half off and my net worth increases by $10k and I'm suddenly carrying credit card debt again…
Now, of course, I'll take the $10k gain any time, I mean, that's nothing to sneeze at. I'm on the verge of doing my best Vanilla Ice dance to celebrate my seemingly effortless gains.
But in reality, since I haven't been keeping up on my finances here, things have sorta been, well, aimlessly out of control.
Sure I gained a huge amount but that was really nothing more than luck. It had nothing to do with any recent decision of mine.
The new found debt, however, was because there wasn't anyone behind the wheel. No doubt about it.
I spent.
I spent some more.
Then I spent more.
And then I thought I had more in my checking account than I really did.
And then I "borrowed" from savings.
And then I spent.
It's been at least 5 years since I've gone on a tear like that — spending like crazy on, well, "nothing".
The reason it hasn't happened in so long is because I normally stay on top of my finances — on a DAILY basis.
Keeps me in check, you know?
Well, that hasn't been happening and the fact that my 401k and home value bailed me out this month doesn't mean that I'm a-okay with the past 45 days.
I'm not.
I'm pissed, actually.
I mean, I'm supposed to be like halfway to being able to pay for the new garage I was to break ground on this year.
Guess what?
I've got nothing.
So,now that it's March, it's time to get real.