Tiny Wolves, Little Tigers, and Mini-Mite Panthers…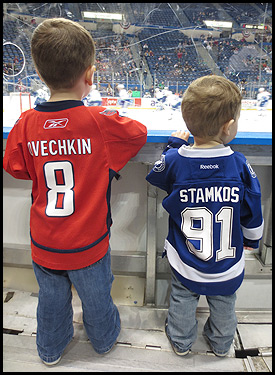 So, I should mention that I inadvertently stumbled across a youth hockey program that'll take a 3-year old player on the roster.
The "season" starts May 11th and runs for 8 weeks. I'm pretty excited and I hope Duncan's enthusiasm as it stands now is still present on May 12th after the first practice.
The downside to this program, and it's a big one, is that it's just barely local.
Okay, it's about an hour from home…
Yeah, it's a haul.
While I'm less than thrilled about that part of it, I'm trying to look at it like a test run of what's likely to come.
See, youth hockey involves a TON of travel. It's just not as popular as soccer or baseball where there are dozens of teams at each age level all under one Recreation Department's control so… even when they're youngsters, hockey teams are generally of the "travel team" variety.
The other advantageous part is that, in the fall when he's 4 years old, he'll be able to "transfer" to a team (more on that inna sec) that plays out of a rink 15 minutes from where we live. This summer's experience will make that commute, provided he still wants to play, feel like nothing at all.
Now, when I started playing soccer as a 5-year old, the team that I played for (Go Crickets!) and the league we were a part of were governed by AYSO which is the American Youth Soccer Organization. Our uniforms even sported their logo.
Since I was only in kindergarten at the time, I'm not sure if my parents had to sign any sort of contract other than the standard "We won't sue if he gets hurt" form that would have been submitted with the payment.
When I moved to Connecticut, I just played in a town rec league. Yeah, just like a local group that threw something together without an organizing body calling the shots. Oddly enough, even at 7 years old, the players in this program were far, far,far more advanced than what I was used to in the AYSO.
I went from a stud to a dud. I suppose I shouldn't be shocked that an organization with endlessly long tentacles did a terrible job of developing talent…
(Insert any anti-ObamaCare, pro-assault rifle, or big government arguments you want in the comments here… I won't bother responding beyond questioning how one can play both sides saying big government is stemming from an apparently unqualified community organizer… Yeah, whatever… Healthcare is good, guns are bad, and I'm indifferent on the size of the government.)
Anyway…
So, fast forward 30+ years and change the sport to hockey.
Youth hockey in the United States is, as far as I can tell, governed from coast-to-coast by USA Hockey. In order to join a team, I had to register Duncan with them, which I did about a year ago, and he was given an ID number that'll be attached to him until he's 18, I'd assume.
Thankfully, membership is free for those 6-and-under.
And by signing on with this team next month, I'm totally serious about the "signing" part. As a 3-year old, he's signed a contract with this specific hockey program under the guidance of USA Hockey.
In order to play for a different team in the fall, his "contract" will need to be "released" by his current team and then "approved" and "transferred" by USA Hockey to the new team — if they still want him.
This is for a FOUR YEAR OLD!?
I'm not certain on the reasoning for so much paperwork and, well, processing. I suppose that since, unlike school districts or town rec leagues that have residency requirements, hockey programs draw players from neighboring towns so you don't want one team scooping up talent on the fly from other teams as if they're minor league feeder programs without any governing body involved.
No joke, little kids have contracts that are "traded" just like the professionals.
While I'm sure it is all just paperwork and I'm thinking about this a little too much, can you imagine if there's a dispute with a program? Like as if they won't release your contract?
I am aware that it does happen, denied releases, that is, but I'm clueless as to the circumstances. Payment issues, perhaps… I dunno.
I just think it's a bit much.
Sure, it's a money making venture for USA Hockey to collect a fee from every player in the country to "grow the game" or whatever, which I totally understand and support, but even for the kids under-6 years old that aren't paying that membership fee? Really?
Oh, and get this… Figure Skating is the same way…
Hopefully being a registered USA Hockey member doesn't mean that he can't play for Team Canada when the time comes…