Net Worth Update: March 2013 (+4062)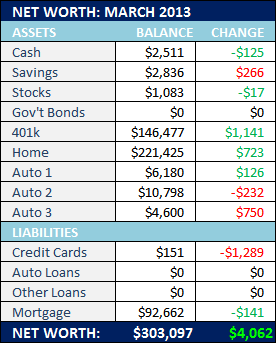 It's about time I catch up on these postings as I'm a few months behind…
I'm not really sure what to say about the numbers being that it's been so long but I will say that I've happy to report that things are moving in the right direction.
February was a wonky month for me — for the first time EVER, I didn't file my taxes in February and didn't even start doing them so I was a little cautious with my spending.
Not sure it that's a good thing or a bad thing but I'm happy with where the numbers (that I calculating in MAY!?) fell.
Oh, and pay no mind to the red and green colours on the chart — they're all screwed up but the numbers are correct.