Changing Faces on US Currency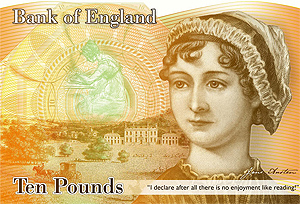 Funny how I went there earlier this week…
This just in, Jane Austen to be face of the Bank of England £10 note.
Anyway, I targeted Alexander Hamilton for replacement here but, really, any of the guys from over 150 years ago, many of which (cross) dressed like pirates, could and probably should be replaced.
Now, don't get me wrong, I get it, George Washington and Thomas Jefferson created this country. But can anyone honestly say that those guys don't have enough recognition already?
I mean, poor Millard Fillmore gets nothing…
Anyway, enough with the commemorative postage stamps, lets get some fresh faces on the currency!
My votes, in no select order, of more contemporary folks who haven't been on any widely circulated US currency that I'm aware of are:
Thomas Edison
Henry Ford
John D. Rockefeller
Ronald Reagan
Martin Luther King
Eleanor Roosevelt
Hank Aaron
George Patton
Neil Armstrong
Oprah Winfrey
Bill Gates