Net Worth Update: May 2015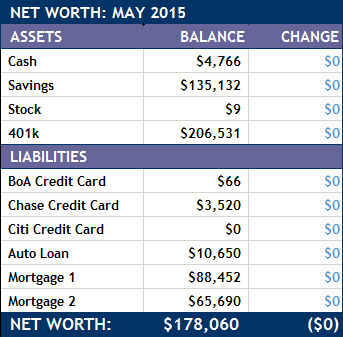 Would've been neat to see my progress during the past couple of years when I was essentially "ignoring" my finances.
'Ignoring' is too strong of a word. Let's just say…I didn't have any direction. Now, hopefully, I'm back at it.
So, unlike when I previously did this, I'm going to ignore assets like the house and the cars.
Mostly because it was such a hassle to calculate their values but also because the values I came up with could so easily be questioned.
I mean, that Land Rover valued at $4500 only really got me $1500 as a trade-in. Kelley Blue Book – you're dead to me.
Honestly, though, I'm also leaving them off because I know I'm currently in the black without them… No need to "pad" the numbers.
Hooray for getting older and wiser, err, wealthy!
(pretty sure everyone gets wealthier as they get older… if only I could've been where I am now when I started this place 8+ years ago…)
Here's the breakdown:
Checking
My day-to-day cash lives here. It's also where I deposit my paychecks. Basically, I just try to keep this above $1500 at all times since that's the threshhold where BoA will start charging me maintenance fees. Most months, I come within a couple hundred bucks of getting charged.
Savings
This looks awesome, doesn't it? Well, truth be told, a vast majority of it is money I owe on a home equity loan so it kinda cancels itself out on the liability side of things. The plan is to use all of this (and then some) to finance building a HUGE addition on our home.
401k
Considering I barely contribute to this (as there hasn't been a match for years now), I sure am glad that I got as much in there as I did when I was still in my 20's. Really, this is a testament to starting early on a nest egg. Not necessarily continuing (as I have not), but starting early.
Stock
Not sure why I still have this paltry amount sitting in a Sharebuilder account. While I'd love to brag about how much money I made selling my Tesla, Chipotle, Lululemon, and SolarCity stock, well, those earnings may as well be ancient history at this point…
Auto Loan
Primary target here — this thing is dropping fast. While I'm barely a week into my aggressive payment plan, this 5-figure sum will be reduced to nothing before the summer is over.
BoA Credit Card
This is a business card that I use as a business owner mostly to make tracking my business expenses super simple since they're all on one statement. Thankfully, I've gotten to a place where I pay this one in full each month — that is, if my clients pay their invoices promptly.
Chase Credit Card
My card of choice lately which is why it's carrying a balance. It doesn't have the lowest rate or the best rewards program but they sure do make it easy to pay them back and, often times, they have the best "transer your balance" offers. As a result, I've had this account open since I was 21 years old. For those counting, that's 17 years ago.
Citi Credit Card
This is my other go-to card. It has a pretty sweet rewards program but the interest rate is ludicrous compared to my other accounts. As such, since I'll be carrying a balance for a few months, this card doesn't venture out of my wallet much these days.
Mortgage 1
My primary mortgage, the one that, post-refi, has a $498/month payment. Staying the course on this one as I'm sure that in 10 more years, a trip to the grocery store will be comparable in price. *So* thankful I refinanced when I did.
Mortgage 2
This is what's left to payback on the Home Equity loan we secured back in December of 2013. We still haven't used the money so, in theory, I could pay it back tomorrow.