So today was Emmet's toe's appointment with the miniature guillotine I'd imagined would be used to chop his extra toe off.
Fortunately, it didn't quite go down, err, come off like I'd thought it might. Or maybe it did? I dunno, but it was really cool.
Here's the "after" picture.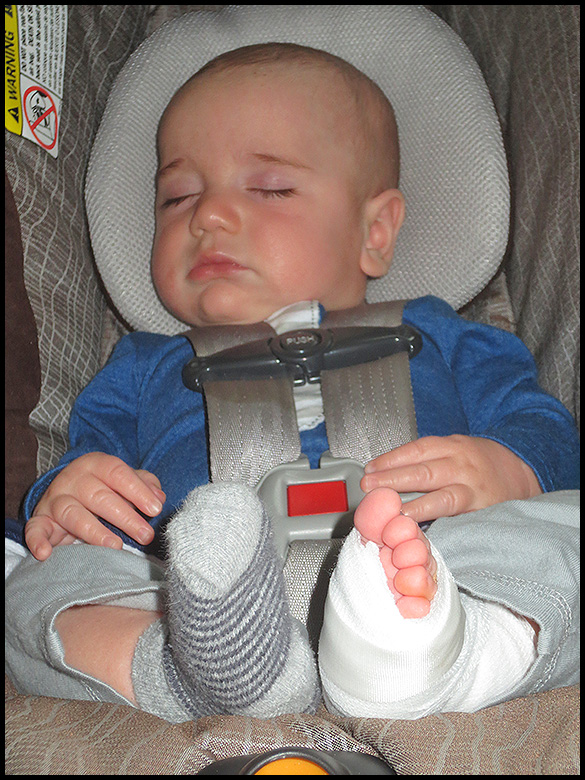 Before pictures can be seen here and the fun and exciting backstory is here.
It all went down pretty quick. Doctor came in, drew on his foot a little with a sharpie, then injected novocaine in a couple of places around that pesky extra toe which resulted in some minimal tears. Then we nervously waited…
Any one remember that awesome waiting room post I had back in 2008? It wasn't like that I all, I'm just sayin'.
Anyway, the doctor came back in after a few minutes, and from my vantage point, I swear, he pulled the damn thing right off with a pair of giant tweezers with one abrupt tug and dropped it into a pickling jar.
I mean, it was quick and powerful. No nonsense.
The truth of it is, he used some fancy scissors down at the base (according to my wife) but I couldn't see that behind his "tweezer" hand. I'll keep on thinking the dude just yanked it off. Old school awesome.
Emmet didn't make a sound. I mean, I know I would have shrieked — this kid is tough.
Moments later, the doctor stitched him up and, having seen stitches going in before, I'm always amazed at how it's possible to just sew a person back together like they're a ripped pair of pants. I dunno, it just seems like we'd "tear" but for whatever reason, we don't. Crazy.
So now he's got more traditional looking feet.
How about that?