33 Years and 13 Minutes of the Moonwalk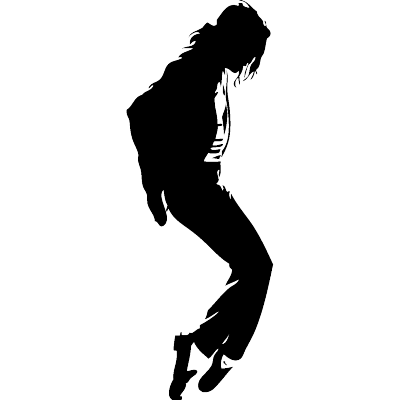 I'm not certain how it came up but recently my two older children have become interested in what I thought was "cool" when I was their age.
No, it's not like they want to use my old Speak-n-Spell… Wait, actually, I should bust that thing out. They'd freakin' love it…
Okay, a better example is how they've have little interest in the crappy Star Wars action figures I had back then or even playing COMBAT on the Atari 2600.
What they've been asking, though, are things like "Is this song from when you were a kid?" or "What did McDonald's have before McNuggets?" and "What number were you when you played soccer?"
Yes, for the record, I'm old enough to remember a time before McNuggets. I'm pretty certain the term "Chicken Finger" had yet to debut.
You wanted chicken? Go to Kentucky Fried Chicken…and order chicken. There was no original recipe then. It was all just… chicken.
Anyway, while driving home one night, we caught the tail end of Michael Jackson's Billie Jean on the radio and I'd mentioned that it was my favorite song when I was their age…
I exaggerated slightly as I was 6 when it came out but…after 3 decades, that's close enough, right?
They both seemed to show real interest in it, you know, being something that I really liked when I was little.
Truth be told, I can't IMAGINE my parents as children.
I think part of that is due to the fact that I essentially know nothing about their childhood — as far as I'm concerned, they "started" when I was around four years old and they've never really shared any of the details of what occurred before then.
It might also be because the things that interested them never really interested me. I mean, I liked playing soccer in elementary school but I'm pretty sure neither of my parents ever played soccer, like, ever. Very little overlap, I guess.
So, I'm going to try my best to make sure my kids know that I really was a kid too — and share with them as much as they're interested in.
So far, anyway, outside of SpongeBob, our interests are almost a 100% match.
Not sure if that's a sign of good parenting or not…
So, listening to MJ in the car that night had me reminiscing of the night I first saw the moonwalk.
The next day, all of us at the bus stop were talking about it. Trying to imitate it. And eagerly awaiting the next time Michael Jackson would be on tv.
Mentioned this all to my kids and they asked…
"What's a bus stop?" and "Why did you have to wait for it to be on TV?"
Yeah, I hate when we're listening to the radio and they insist it play a certain song… Ahhhh… products of the "content whenever I want it" digital age…
Last night, on YouTube, I pulled up this MJ video with 13 minutes of moonwalking all compiled into one video.
I was a little disappointed it didn't start with one of his early ones (I thought it was interesting how he slowed the beat down as he aged…) but even still, the kids were transfixed.
Crazy, the first moonwalk I ever saw (at the 12:20 mark of the video) was barely three steps. Some of them in this video are all the way across the stage with some sideways thrown in too.
So, less than four minutes in, both of my kids were laughing and giggling while trying to do it.
Just like I did 33 years ago at that place we used to wait for a bus to pick us up.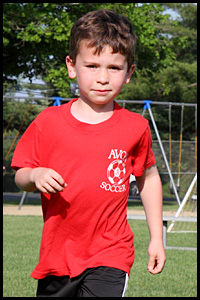 PIAC Addendum:
For the record, my older son does ride the bus to school each morning but I suppose no one ever refers to it as a bus stop anymore…
Probably because it's practically a door-to-door service now. Didn't I blog about that, like, forever ago?
Oh, and my middle son Henrik, after just 15 minutes or so, practically has it. Even with shoes on, he does a better moonwalk than I ever could. Crazy how fast this species of ours is progressing!
Speaking of the soccer number (way up in the fourth paragraph), my older son thought he looked so cool in that 30+ year old youth soccer t-shirt he wore at soccer practice tonight. I mean, nothing but pride on his face.
Sure, call me a hoarder but I'm certainly glad I held on to it.
Err, all 20 of them.