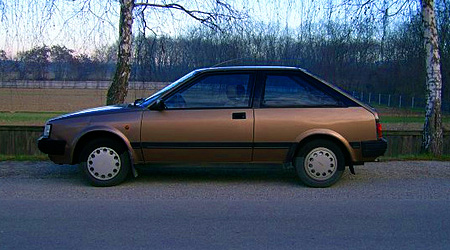 In 1983, my family joined the ranks of a the two-car household. I was 7 years old.
Weird, thinking back, as we'd always had a house with a two car garage but never had two cars.
In fact, 90% of our neighbors only had one car. Strange to think houses were "ahead" of the times back then.
Anyway, the "new" car was a Nissan Pulsar hatchback that peculiarly still had Datsun branding here and there.
It was, ahem, brown.
Not the branding…the car was brown. The whole car. Inside and out.
Not tan. Not gold. Not even copper.
Brown.
Now, a brown car may have been a status symbol of sorts in the funky 1970's but by the 1980's, well, let's just say I was never keen on being seen in this car.
Brown?
Really, Dad?
I remember pleading with him to get a blue one instead to no avail.
Hilariously, in 1988, I made all of the same arguments when my dad purchased a Ford Bronco. Also, you guessed it, brown. Ugh…
He even tried to talk the salesman into replacing the Bronco tire covers (which were traditionally black and white) with a brown Eddie Bauer edition one. You know, to complete the brown-ness or something.
Horrifically, the upholstery inside the Bronco which was, obviously, also brown was accented with orange stripes. OMG!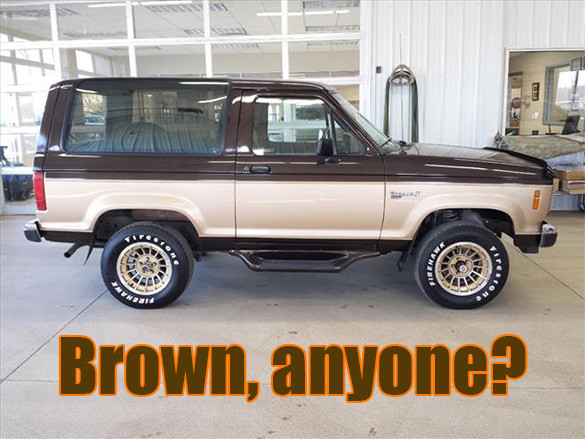 Yeah, just what a 12 year old in the 80's wants to be seen in… two brown cars.
We're talking sparkly brown, too. It was traumatic.
So, I was in high school when I first heard the term "POS" and it was used by some of the older kids in reference to my dad's car coming around the bend to pick me up after track practice.
It took me a bit to figure out was a P.O.S. was. Okay, no it didn't. Even 20 years before things like BFF, LOL, and WTF became trendy and common, POS set the "lets over abbreviate everything" craze off.
The very not cool Pulsar was on it's last legs by then but even the day it rolled off the lot, though I hadn't used the term that far back, it *was* a POS, through-and-through.
The equally uncool Bronco "could" have been cool if it'd been blue or something.
Or white — OJ Simpson was still a pretty cool cat back then!
So from 1983 through 1990, I was shuttled around in brown cars and, clearly, it scarred me for life.
To this day, I have never owned a brown car and can pretty safely say that I will never purchase a brown car. Ever.
Can't do that to my kids — even if some of those brown Kia's do look pretty sharp.
And speaking of my kids, perhaps it's because they're still a little too young to care (or notice) or maybe it's just that I've always driven AWESOME cars (in my opinion) since they've been around but they don't seem to have any negative feelings towards any of our vehicles.
If only I could have been so lucky.
Thanks, Dad…
RELATED NOTE:
In the past on here, I've posted that I like to attend car shows. Since I'm in no way a gear head and muscle cars do nothing for me, it's mostly because they're outdoors and have free admission.
Anyway, one of the shows I've brought the kids to each year only includes Ferraris, Lamborghinis, Bugattis, and Maserattis.
Sorry, Porsche — you're ghetto and are turned away at the gates.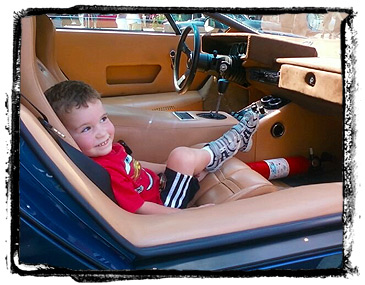 Duncan, my oldest, even had the opportunity to ride in a Countach a couple years back — and though I'm not one to get all excited about riding (or even just sitting) in a fancy car, that was pretty cool.
So, that show only happens once per year since the owners of that type of vehicle aren't usually the type looking to show off their wheels.
They have the funds, they buy a neat toy, and then drive it every so often and usually for charity events. That's what this specific show is all about.
The regular car shows (seemingly on weekly basis) that happen around here are pretty much a collection of American muscle cars and wannabe "too fast too furious" Mitsubishi's with wheels the size of skateboard wheels.
You know, bitchin' Camaros with racing stripes, Mustangs with the blowers coming through the hood, and t-top Firebirds that even have the bird painted on the hood — mostly driven by short fat guys with hairy backs in Confederate flag tank-tops.
And then on the other side of the street, the primer gray Hondas and Mitsubishi's mostly made out of bondo crowd — guys and girls, rail thin, vaping, and with an abundance of cheap jewelry on — blaring tunes with so much bass, their license plates rattle as loud as the engine does.
You get the picture.
I enjoy the people watching at these events — what a collection!
Perhaps I'll start calling them people shows instead of car shows…
Anyway, at one of them late last year, I asked my boys to show me which car they though was "better" than our Z3 because, certainly, even at the primarily domestic muscle car shows, there are some really nice (and unique) vehicles that I'd trade my BMW for in a heartbeat.
To my surprise, they both agreed — it was the Ferrari. I wasn't surprised they liked the Ferrari, you know, I just patted myself on the back for giving them good taste — I was just surprised they actually agreed.
But a Ferrari? Here? Where?
They walked me over to a maroon 1980's style Ford Mustang — you know the type that looks just like a Ford Escort of the same era except the Mustang had goofy plastic shutters down the rear window… This, apparently was their favorite car.
Yeah, my kids thought it was Ferrari. So much for good taste…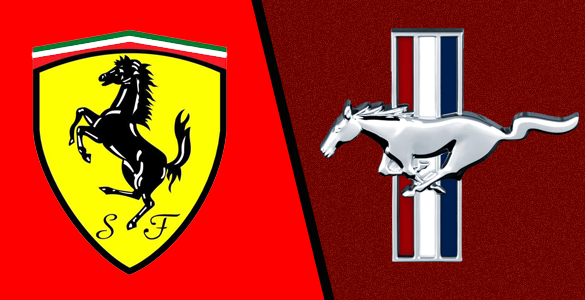 And that might seem pretty funny but, honestly, what the hell was Ford thinking in the early 1980's? The entry level Escort and their flagship muscle car looked nearly identical. Sheesh…
The best part was that the meathead owner of the car seemed a little offended at their mis-identification… I thought it was hilarious!
I give the kids a lot of credit for semi-"recognizing" the logo but quietly explained (our of earshot of the owner, of course) that while the logos are similar but that this car's logo was more of a pony than a horse.
And Ferrari's don't come in a colour as ugly as that.
Ever.