Net Worth Update: August 2015 (+$462)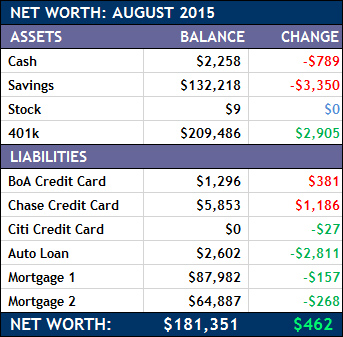 I often say that "Data Don't Lie" but sometimes it'll really surprise you.
The fact that I squeezed out a positive number last month is quite shocking to me as it was a month when my property taxes were due and I guess I kinda felt like I was spending…and spending…and spending some more each month.
So, just a few explanations on the movers and shakers…
The savings dropped so much because, as I mentioned, my property taxes were due. I don't have my real estate property taxes built in to my mortgage which basically means that my mortgage payment doesn't have anything going into an escrow account.
The upside is that my mortgage payment is under $500 per month and stays the same regardless of whether taxes go up or down. The downside is that, twice per year, I need to pay my taxes myself — out of pocket.
If you're pretty good with your money, it might be something to look in to. I love it.
Connecticut, the state where I live, also applies a property tax to automobiles so those were paid too.
On the liabilities side of things, I'm thrilled to report that I knocked another $2800 off of the auto loan.
The downside is that when I started rapidly paying that balance down (from $11k), I had pretty much zero credit card debt. Now I have over $7k owed at a relatively high interest rate.
It's okay, though. (I've explained my reasoning in the past)
A few more weeks down the road when the auto loan is gone, the credit card balances will start to fall quickly.
I'm on the right track.