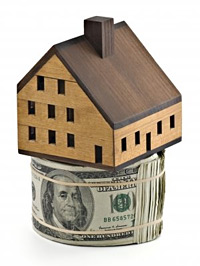 So I convinced myself earlier last week that we could totally afford a 5000+ square foot palace with twice as many bathrooms as it does bedrooms.
And, as factual as it is that I can afford such a place, it'll never happen.
Over the weekend, I came across a real life reinforcement as to why I'd never do such a thing.
A parent of one of my son's former classmates (in daycare) was told this week that her position would be "eliminated" next month. Sort of a reverse two week notice, of sorts.
We're not "tight" enough for me to know if she's the main bread winner in their household but based on the fact that they're had a tag sale, like, right now *and* put their house on the market already kinda of tells the story on it's own.
In some ways, I'm envious of the reality that she's been applying for jobs (yes, already — clearly they move quickly on things) all over the country, totally committed and prepared to leave this area entirely.
I mean, I'm not entirely sure how or why I ended up where I did, geographically, and though it's certainly near the the top of my list for places I'd like to live, well, it's not the top spot.
Either way, I'd never want to put my whole family in a situation where we'd have to pick up and turn our lives upside down on essentially zero notice.
So, while I feel like we're living paycheck-to-paycheck as it is now, should me or my wife suddenly find ourselves without income, you know what?
We'd be okay thanks to our sub $500 monthly mortgage bill.
Guess we won't be moving to Southern Ontario, Wisconsin, or Ohio anytime soon…
Drat.