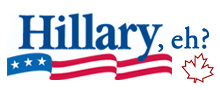 Earlier this week, Hillary Clinton selected "You and I" by Celine Dion as her official campaign song. The ridiculousness of having an official campaign song aside, as a Canadian, it's always kind of bothered me how un-American the most über-American things have become.
See, Celine Dion is a Canadian. A francophone, even. After 9-11, when all of the celebrities got together for that television special that ran on pretty much every channel, I thought it was sad that they closed the show with Celine Dion belting out the "Star Spangled Banner" with her thick French accent.
Yes, it was a good rendition, I'll admit, and she's got a great voice, but I think it would have been wiser, not to mention more appropriate, at the time to have an American singer belt it out with true meaning and feeling. Kinda like Whitney Houston before she became a crack addict. Celine can belt out "O Canada" with true feeling for sure, but she can only sing the US anthem.
Other songs in the running for Hillary's official campaign song were: KT Tunstall's "Suddenly I See; U2's overused "Beautiful Day", a Monkee's remake of "I'm a Believer" by Smash Mouth; and Shania Twain's "Rock This Country!".
Okay, let's see… KT Tunstall is from Scotland. She sounds like it too. The members of U2 hail from Ireland. They don't even sound like Americans. Like Celine, Shania Twain is also Canadian.
Smashmouth is from California, and "I'm a Believer" was written by native New Yorker Neil Diamond (he recorded it first too), but it was the Monkees that made it a hit song. And it was England's Davy Jones that made the Monkees popular. Yes, I know Micky Dolenz sang lead on that specific song, and he's from California, but the whole band was openly a Beatles rip-off. And the Beatles were British. So, by a technicality, it still re-enforces my point.
It's too bad for American politics that artists like Bruce Springsteen and John Cougar Mellencamp often take political sides and are very vocal about it. Or that someone like Billy Joel is such a notorious drunk that using something from his catalog might not be such a great idea.
I suppose the candidates could select a number of country tunes, but I can't honestly name a single country song that doesn't leave a bad taste in my mouth. That's one of the reasons I'll never drive a Chevy.
Anyway, it got me thinking… The members of Destiny's Child are all homegrown Americans. Where was "Bootylicious"? Hillary could have used that. I'm not certain the country is ready for that jelly.
Ice-T is American too. Rap is an American genre. What about "Cop Killer"? Either may have made an interesting "outside the box" choice.
Just something to think about.