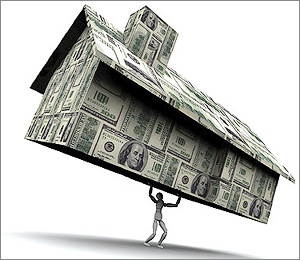 This morning I heard some talking head on the radio, apparently a financial analyst or something, tossing out that question rhetorically, I dunno, since some existing home sales report was dismal yesterday and it brought the markets down.
One of those doom-and-gloom blame-the-economy reports, you know the kind. It's tough to find a newscast these days without one…
But it got me thinking back to when I bought my house — did I buy it as an investment?
Nope.
Did I buy it to save money?
Not really. I mean, sure, my original mortgage payment was less than an upscale one bedroom apartment could be had for. Now that my mortgage payment is less than $500, well, it's less than a rat-infested two bedroom apartment could be had for.
So, okay, maybe it was a money saving venture but that certainly wasn't my intent.
Point is, I didn't buy my house as an investment or to save money.
I bought it to live in.
And that was a good investment.