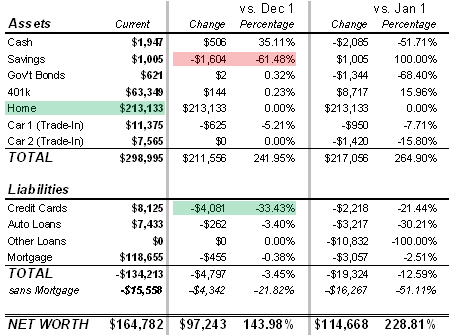 No, I didn't win the lottery…This month's numbers are going to look a little funky as this is the first time I'm including my house in the numbers.
As I mentioned last month, I'll be calculating its month-to-month value using the 2007 property assessment and the Zillow estimate with the latter holding more weight.
With that out of the way, on the assets end of things I pulled all but $1k out of my ING Savings account. With the rates having fallen even further in December, I decided to pull out even more to throw it at higher rate credit card debt.
And apparently I crossed a "magic" mileage number on my primary vehicle, which lost over 5% of it's value in the span of a month. It had been holding steady, and even went up in value a few times, over the year, but I guess the 26k mile marker is when the value starts to drop heavily.
On the liabilities end, the credit card balances continue to fall. As hoped, I wiped out the 9.9% Bank of America Business Card entirely, and put a significant dent in the other two cards carrying balances.
Everything else was business as usual.
In the grand scheme of things, ignoring the new house number, my net worth is higher than it's ever been. My total debt is also at it's lowest point ever.
Together, that makes 2008 look pretty bright, right from the get-go.