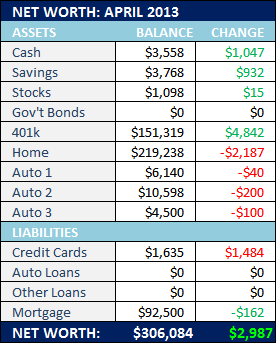 So, while the bottom line isn't all that great, I'm pretty happy to report that the assets that I have active control of are all going up.
Sure, the uptick in my checking account is mostly due to a favorable tax return but I'm gonna keep telling myself that it's *all* due healthy financial habits.
Yeah, that's what I'll tell myself.
The not so great indicator here is that I've been using my credit card pretty much like I always have but at the end of the month, just before I put these reports together, I haven't been paying the balances down to zero.
See, this site holds me accountable and I will freely admit to making HUGE credit card payments on the last business day of the month just to make these reports look their best.
I haven't been doing that.
Mostly because I haven't been doing these reports as diligently as I used to but, well, I've gotta start getting back in the habit.
A $1600 balance is nothing to sneeze at…
Grrrr…