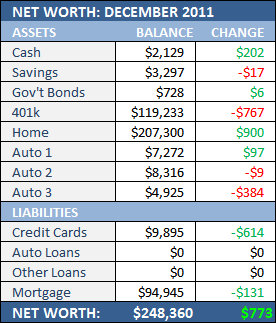 In these unstable times, I'm perfectly happy with modest $773 gain. Especially with all of the holiday spending, though, I suppose I shouldn't make a final judgement until next month's update.
Cash:
There's no real strategy here at all. I get paid every two weeks and I've got automatic payments pulling from my checking account right down to the $2000 balance level (to avoid bank fees). It's like auto-pilot.
Savings:
I withdrew $600 from here early in the month (to pay off a credit card balance) but managed to replenish it almost 100 percent. Unfortunately my property taxes are due this month so it's going to drop off considerably but that's what I set the savings account up for — property taxes.
Gov't Bonds:
Month after month I question why I still have these. The return is just so much better than a savings account that, for some reason, I just can't part with them completely…
401k:
It's up. It's down. It's…whatever…
Home:
It's worth far more to me but the mortgage payment says otherwise. It's a total win-win.
Auto 1, Auto 2, and Auto 3:
Just this month I realized that we have four "older" cars (my wife owns one that isn't reported here) that all have insanely low mileage. It doesn't really mean anything, I suppose, but I'm starting to think that when you have a mini-fleet of cars to choose from, they all last longer.
Credit Cards:
I'm kinda shocked this went down, actually. That week after Thanksgiving turned out to be pretty expensive but I guess I didn't charge quite as much as I thought I did. That's a good thing — we've got to get this slate wiped clean by May 2011.
For the record, nearly the entire balance is on a Chase Slate card. See what I did there? Pretty cool, huh?
Auto Loans and Other Loans:
Nothing to report.
Mortgage:
Just another minimum payment.