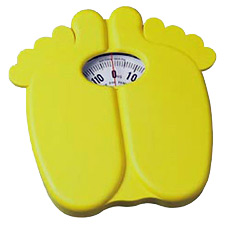 Way back in September, I mentioned that the Biggest Loser was a guilty pleasure of mine.
I'd originally become hooked to the show due to a pseudo celebrity crush that I had on one of the contestants — but that was three seasons ago and I'm still watching it each and every Tuesday night.
Now I've never been very heavy — never even hit the 200 lb mark — so I can't really claim to be able to relate to the contestant's demons but, thinking about it now, it's almost funny how I became a fan of the show just as my own waistline was swelling right before my eyes.
Five "new" inches on my waist and an extra 50 or so pounds.
In the span of a year…
Yeah, I was well on my way to becoming a potential contestant…
The good news, though, is that so far in 2009, I've dropped nearly half of that extra weight.
No, it wasn't a new year's resolution.
And, no, it's not because I'm exercising or eating right.
Please… that's not my style.
I've lost the weight just by going to work everyday.
Yep, I lose weight and get paid pretty handsomely to do it. It's as simple as that.
Could it get any better?
Actually, yes.
The weight loss is entirely due to stress…with a pinch of unhappiness too.
I haven't been able to pinpoint exactly what it is at work that's suddenly (and for the past five months) taking its toll on me — no, it's NOT the economy — but if the side effect is getting my "stick" figure back, well, I guess I shouldn't complain…