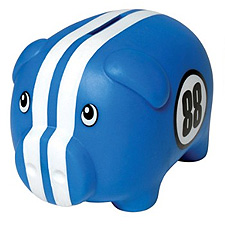 Wow, just a couple of weeks in and I'm already feeling really, really, really cash-strapped.
It's sunk in now how far "out-of-game" I'd allowed myself to get over the past couple of years of not posting on here.
I unveiled that really aggressive plan to pay down my auto loan just, what, like two weeks ago and, ALREADY, I've had to dip into my savings account to cover my regular bills.
It wasn't supposed to happen this way.
I mean, I'm an expert at this sort of thing, right?
I used to be.
So my stumbling out of the gate is clearly a result of my finances going nearly unchecked for the past couple of years. If I wanted something — and I could justify the costs — I bought it. It's pretty simple, really.
In my head, two weeks or so ago, I though, eh, I'll just move some automatic payments around to knock out the auto loan, you know, and things will be just like they've been for what feels like forever. No big deal.
But then I see something I've gotta have on eBay. I spend a couple hundred bucks on my business. The auto insurance bill comes in. I buy a new tablet for my son's birthday. You know, stuff.
Add all of that up and, well, hmmmmm…that was all of the extra money I'd had slated in my plan to go towards the auto loan.
Crap.
I can't have it all.
Even still, I haven't stopped the payment plan.
I didn't even hit pause.
To get me through this rough patch, I brought over $500 from my savings account to get me by until my next paycheck.
And, hopefully, from here on out, I can curb my spending back to where it needs to be to make this all work…