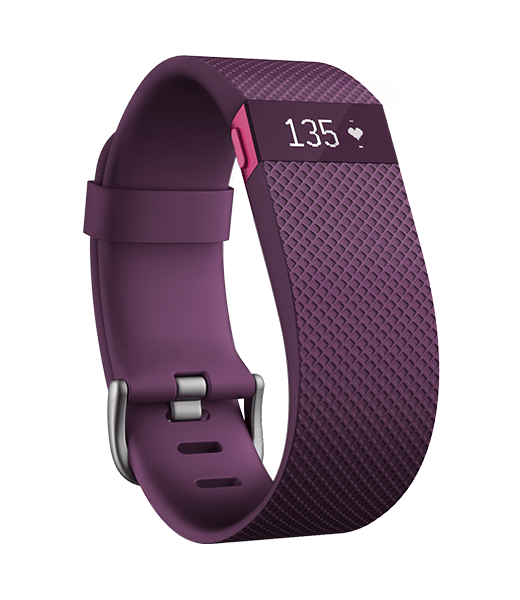 My wife received a FitBit HR for her birthday this past weekend and I put it on for around 25 seconds. This is my review.
Pretty solid build — a little like the rubbery material Swatch watches were made of in the 1980's.
At the same time, while solid, it also kinda looks a bit like a Happy Meal toy giveaway — cheap really.
No one really remembers those days when McDonald's handed out "tech" things so, apparently, it's okay to charge $150 for something visually very similar.
On the plus side, while the material feels like a Swatch, they've pressed a pattern into it so it's not arm-hair pulling — think of a really wide and tight elastic on your arm.
Yeah, it's nothing like that.
It has a couple of flashing lights on the bottom side that touch your wrist that I'm guessing are checking out your blood flow to calculate your pulse — kinda like those one finger clothes-pin style pulse meters.
It also has a real watchband clasp unlike the friction clasp that the regular Charge model has. That alone made it worth $25 more in my book as it can't just "fall" off.
My wife, though, disagreed and thought the less expensive model would be more comfortable.
The small display bar only lights up with the time when you tap it or press the one button on the side.
I realize that this is a battery saving measure and can totally respect that. However, the trend with most modern devices to have so few buttons is highly annoying.
I can't tell you how many times I've been frustrated trying to turn a tablet on or off. There's only one button — do you hold it down? Do you not hold it down? Is there some sort of magic pressing pattern required to make it do something?
With a singe button, this "new" wearable technology is akin to the on-board "computer" on my nearly 20-year old car.
You know, where you set the clock using a single button and endlessly frustrating patterns to jump from hour to minute.
Even my current Blu-Ray player only has a couple of buttons. One to turn it on and one to eject the disc. Should I lose or break the remote, well, the whole device becomes a paperweight.
I hate that.
The FitBit HR Charge is also not waterproof. I dunno, if a wearable device is suppose to "track" your daily activities, you'd think they'd ensure that it can be worn in the shower.
I know why it's not waterproof but whichever company figures out a way to make it that way, well, that'll be a game changer. Hey, watches are waterproof…and have been for like 30 years, right?
Anyway, in the short time that I wore it (no, I didn't get a rash), it told me that it was 7:31PM and that my heart was beating 85 beats per minute.
Pretty uninteresting stuff, right there.
It also told me, since my wife had been wearing it pretty much all day, how many steps had been taken (with a little progress bar pushing her towards 10k, I'd assume), how far she'd traveled, and how many calories had been burned.
Now, as a geek, I could tear down the accuracy of all of these number with ease.
I mean, only a moron would think a device like this, straight out of the box, could be accurate with so little to go on and so many variables a strap of rubber with a blinking few lights could never know.
(Yes, I know you can "customize" it to your regular stride length and that sort of thing to make it slightly more accurate but I'm certain that 90% of their owners never even bother.)
That said — I don't think precise accuracy is the point or purpose of the device.
With the Fibit displaying that she only had about 1200 steps to go until she hit the 10k mark, guess what?
We went on a late evening walk.
At a time when, usually, we'd just be lounging on the couch waiting for the kids to fall asleep.
And, while the numbers are just that, numbers, and essentially meaningless…those tiny numbers got her (and me…and three kids) up and moving at a time when, well, frankly, it was couch potato time.
That's where the FitBit excels.
And until the current fad of wearable technology wears off, that's probably a good thing for our society.
Get up, and get moving.

– – – – – – – – –
PIAC Tangent
Hilariously, my kids refer to it as a "Fibbit".
Somehow I'm pretty sure that their marketing department failed to test the final product name in a focus group of young children.
(Makes you wonder how/why the drug companies approved names like Latuda and Farxiga, doesn't it? I find both names (and their commercials) hilarious.)
Sure, the FitBit isn't geared towards that ageset anyway (though the wrist band does get small enough to fit my 6-year old) but I can just imagine people saying to their friends, "Oh, I walked over 14 miles yesterday…" with the group croaking "Fibbit! Fibbit!" in the background.
In Fitbit's defense, they can always claim that the accuracy is just a "reasonable" guess…so, yeah, feel free to fib a little bit.
For real, though, like with solving money issues, the key is motivation and momentum.
The FitBit Charge HR delivers on both fronts…if you keep wearing it.
But NEVER in the shower.