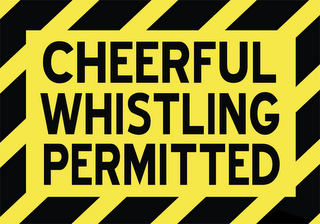 Almost three years ago, to the day, I wrote a post with the same title as today's post.
I stumbled across the old post by chance while trying to dig up that old chart for yesterday's entry.
Anyway, since then, I've gotten out of debt and then right back into it again…but let's ignore the second part of that statement for now.
So as I neared the end of my original debt paydown, I listed out a number of things that I wanted to do once the debt payments were no more.
This is that list:
Quit my extra job.
Start a family.
Take a real vacation.
Have the entire first floor of my house remodeled. We're talking the works. New floors, walls, ceilings, electrical work, plumbing…
Buy an all new living room set with a sectional couch so we can both sleep comfortably when football is on.
Have some trees removed and then have other areas landscaped professionally.
Tear down and build a new garage.
Reading it brought a smile to my face.
I quit my extra job — a few weeks before I even wrote the list. After 18 months off, I've since taken it back on but with a lot less on my shoulders so it's no longer as maddening as it once was. It *is* however like being in the dentist's chair when it comes to being paid in a timely fashion. Yep — they're over 90 days behind. Again.
I started a family. Duncan was born in May of 2009 and we've got another on the way at the end of March.
Take a real vacation? Well… We did take one hell of road trip in the summer of 2008 but I'm not sure I can classify it as a "real" vacation. By "real", we're talkin' about a Wheel of Fortune prize type of vacation. We've yet to take one of those.
We had the first floor of the house remodeled in 2010. I still need to have the kitchen done (and the associated plumbing) but everything else was done.
And at the conclusion of the renovation project, I bought a huge sectional couch for our living room back in October!
We had trees removed in July of 2009. And while we haven't had any professional landscaping done, I've had professional landscapers rake my leaves for me since April of 2008.
And we still haven't gotten to that last "wish" but I think I pretty much accomplished what I wanted to do when I got out of debt — and getting out of debt was the only reason that I was able to accomplish as much of it as I did.
Now to start putting together a new list, you know, as something to look forward to.