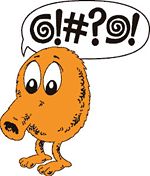 For the past few months, I've been all over the place when it comes to paying down debts — priorities have been jumping from the top right down to the bottom like Q*Bert in matter of weeks.
The original plan was to eliminate PMI. Then it was to eliminate my car loan. Then I worked in some savings ideas too… Basically, I was just spinning my wheels.
Yeah, balances were looking better with each passing week, but nothing groundbreaking… There was no excitement. A checkered flag wasn't even in sight.
So last week, I decided to change things up again. The mortgage would be the top priority.
I just need to send around $1900 towards it by September to eliminate PMI which, in turn, will save me just over $1000 per year. You can't really argue with that.
In May, my "auto-payment" plan for the car loan was $400 on the 15th of the month and $150 every Tuesday to make each month's total payment right around $1000. As of today, the $150 every Tuesday has been cut down to $25 every Wednesday.
On the mortgage in May, in addition to my regular monthly payment, I had a weekly auto-payment of $50 going out each Monday. I've increased that to $150 per week.
For savings, I was transferring $75 over to ING each Friday — that has been eliminated.
So, just taking the weekly auto-payments into consideration, in May, my weekly expenses were $275.
($150 Auto + $50 Mortgage + $75 Savings) = $275
Now, on the new revised plan, my weekly expenses for these three things will be $175.
($25 Auto + $150 Mortgage + $0 Savings) = $175
Wait, how is that an improvement? You've cut back $100 that was originally going towards your goals!?
Good point — it doesn't make much sense.
But for now, it works.
Take into consideration that we'll be going on vacation later this month, so I'd like to pad my checking account as much as possible and this is a way of doing it.
And while I'm certain that the $2k in savings I have right now will be more than enough to cover whatever vacation expenses remain, I'd prefer to not have to tap into it *too* much — but I also don't feel the need to increase it either.
Best of all, July 2008 will be a three paycheck month for me.
Property taxes will eat up a decent chunk of that extra check, but I think that it'll be possible to reach the 80/20 threshold on the mortgage to eliminate the PMI by August.
Once that's done, the auto loan will be the last remaining debt goal and you can bet it will be gone in a matter of weeks…
One at a time is the only way to go — not sure what I've been thinking since I paid off the credit cards…