November 2007: Quest for $1,000,000.00 Dollars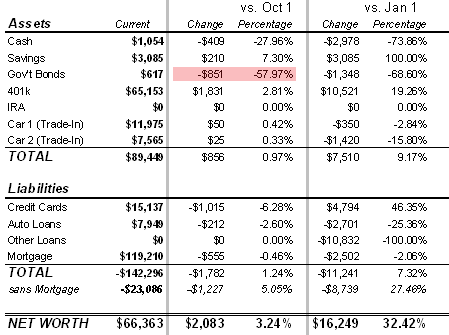 Nothing terribly notable this past month.
My assets remained relatively flat while my debts kept pace in the right direction resulting in another "positive" month.
The Government Bonds were the big negative this month — I cashed out all that I could earlier this month because the money could serve me better elsewhere.
Where'd it go? Well, it got me ahead on my mortgage again (next payment is due in January) and it knocked off some of the credit card debt.
And speaking of credit card debt, I ending up throwing well over $2k towards the debt hoping to really get a good jump on knocking out one of the cards before the end of the year, but the unexpected expense of the hard drive crash swallowed up any of the noticeable drop.
That's okay though. Under the new plan, November's looking pretty good already.